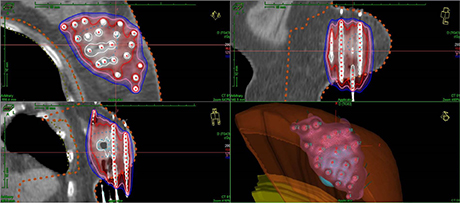 Images from software that assists physicians with treatment planning during a breast brachytherapy procedure using a multicatheter implant.
For more than two decades, physicians have used accelerated partial-breast irradiation (APBI) to treat breast cancer patients following breast-conserving surgery. Although its effectiveness compared to conventional whole-breast irradiation (WBI) and/or accelerated whole-breast irradiation (AWBI) has been called into question since its inception, numerous clinical trials have confirmed that outcomes of APBI-treated patients are comparable and, in some cases better, than whole-breast treatment.
American Brachytherapy Society Task Group Report
The American Brachytherapy Society Task Group (ABSTG) conducted a comprehensive literature review of 926 articles published between January 2000 and April 2016. They summarized local control and toxicity data from 59 series in 67 publications in an online report in Brachytherapy.1
The article provides a concise review of the Level I evidence. Specifically, reported 5-year local recurrence rates ranged from 1.4% to 6.1% for multicatheter interstitial brachytherapy (MIB) and 0% to 5.7% for single-entry brachytherapy catheters when delivered to patients, the majority of whom met standard selection criteria. Cosmetic outcomes were comparable to WBI. Reported rates of infection ranged from 0% to 12%.
Toxicities occurred less frequently when single-entry brachytherapy devices were used compared to WBI. The ABSTG reported a range of symptomatic fat necrosis in 0%-12% of patients who received treatment with MIB compared to 0%-3.2% of single-entry brachytherapy devices. For MIB-treated patients, late grade 3 or higher telangiectasis was reported at 0%-8% compared to 0%-2% with single entry devices. Fibrosis was not reported for any single-entry brachytherapy treated patients compared to 0%-9.1% for MIB patients.
Lead author Simona F. Shaitelman, MD, of the Department of Radiation Oncology at the University of Texas MD Anderson Cancer Center in Houston, and co-authors state that "breast brachytherapy is a treatment technique that provides acceptable rates of local control in select patients…and that the long-standing debate over the use of APBI should finally be put to rest." They also recommend that physicians considering APBI advise their patients of the well-documented side effects of this treatment.
APBI Level I evidence
In another Brachytherapy article, physicians from seven U.S. institutions who treat breast cancer patients with ABPI have prepared an update on published Level I evidence. Lead author and single-entry brachytherapy device pioneer Frank Vicini, MD, of 21st Century Oncology/Michigan Healthcare Professionals in Farmington Hills, Michigan, and co-authors prepared the review article summarizing Level I data supporting APBI "in an effort to provide guidance when to offer this treatment approach vs. standard fractionated WBI, AWBI, or excision alone and to address questions related to its application."2
The authors summarize 5-year data addressing efficacy, toxicity and overall cosmetic outcomes of more than 2,000 breast cancer patients who participated in 4 modern, prospective randomized phase III clinical trials. In addition to identifying and summarizing the Phase III Trials that provide Level I evidence comparing APBI and WBI outcomes, they explain how the results fit into the context of AWBI. They also discuss how to define the partial breast target, evidence-based optimal dose/fractionation schemes and which techniques can be used, as well as looking at selection criteria for APBI as it pertains to decision-making. Co-author Chirag Shah, MD, of the Department of Radiation Oncology at Cleveland Clinic's Taussig Cancer Institute in Cleveland, Ohio, told Applied Radiation Oncology that he personally was concerned about the risk of toxicities in women with additional factors not often included in treatment criteria, including poorly managed diabetes and smokers.
The authors say additional data are needed "to help further refine patient-selection criteria, better clarify the optimal partial breast irradiation target and technique for each clinical setting, determine when AWBI, standard WBI or excision alone may be more appropriate, and investigate if further reductions in fractionation schedules are possible."
New ASTRO guidelines forthcoming for APBI
The findings reported in European and North American clinical trials are leading to guideline modification and expansion of potential suitable patients. Last year, the American Society for Radiation Oncology (ASTRO) changed the minimum recommended age from 60 to 50 and included patients diagnosed with ductal carcinoma in situ (DCIS). In December 2015, ASTRO requested commentary on guideline changes. Updated guidelines to the society's 2009 consensus statement for APBI will soon be published in Practical Radiation Oncology, according to an ASTRO spokesperson.
Five-year outcomes of 250-patient strut-based APBI study
Catheryn Yashar, MD, a radiation oncologist in the Department of Radiation Medicine and Applied Sciences at the La Jolla-based University of California in San Diego, has been pioneering the use of a single-entry strut-based multi-lumen catheter device since its development. Her institution and 10 others initiated a retrospective study of the first 250 consecutive patients treated with the Strut-Adjusted Volume Implant (SAVI, Cianna Medical, Aliso Viejo, California). They report five-year findings of local control, toxicity and cosmesis in an article published in Brachytherapy.3
The device used to administer radiation has a fixed central catheter and 6, 8, or 10 peripheral source lumens. These are expanded to be in direct contact with the surgical margin and come in 4 sizes to accommodate breast size and shape of the cavity. Patients received 10 fractions of 3.4 Gy over 5 days. Both early and late toxicities were recorded and cosmesis was uniformly graded.
Almost 75% of the patients had invasive disease, with the remainder having DCIS. The majority of patients (69.4%) had tumors between 5-20 mm. The patients were 40 to 85 years, with the majority of women postmenopausal (84%) and over 60 (57%). Ninety percent had estrogen-positive tumors, and 65% received endocrine therapy.
At a median 5-year follow up, five (2%) patients experienced a true recurrence/marginal miss. Ten patients (4%) had an ipsilateral breast tumor recurrence. Two patients (< 1%) developed distant metastases.
The primary toxicity reported at any time was seroma (11 instances), six in the first year following treatment, and five after two years. There were instances of breast pain (9), erythema (8), induration (7) and telangiectasia (7). More toxicities (22 instances) were reported 24 months following treatment than within the first 12 months (18 instances). Only five were reported 13-23 months after treatment. All but 15% of the patients had excellent-to-good cosmesis. Four-year actuarial rates were 97% for overall survival, 98% for cause-specific survival, and 92% for disease-free survival.
When asked if the use of single-entry breast brachytherapy devices has significantly increased based on the maturity of the technology, and the findings of clinical trials, Dr. Yashar said that it has remained relatively steady after an initial rise. She is hopeful that more radiation oncologists will consider APBI — and potentially single-entry breast brachytherapy, which is easier to perform — for qualified patients, especially in light of the now published randomized European trial.
REFERENCES
Shaitelman SF, Amendola B, Khan A, et al. American Brachytherapy Society Task Group Report: Long-term control and toxicity with brachytherapy for localized breast cancer. Brachytherapy. Published online June 7, 2016. [pii: S1538-4721(16)30450-0. doi: 10.1016/j.brachy.2016.04.392]. PMID: 27288156.
Vicini F, Shah C, Tendulkar R, et al. Accelerated partial breast irradiation: An update on published Level I evidence. Brachytherapy. Published online July 27, 2016. [pii: S1538-4721(16)304928-6. doi: 10.1016/j.brachy.2016.06.007]. PMID: 27288156.
Yashar C, Attai D, Butler E, et al. Strut-based accelerated partial breast irradiation: Report of treatment results for 250 consecutive patients at 5 years from a multicenter retrospective study. Brachytherapy. Published online August 12, 2016 Aug 12. [pii: S1538-4721(16)30507-4. doi: 10.1016/j.brachy.2016.07.002]. PMID: 27528591.
Back To Top