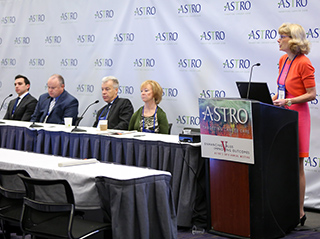 Newly diagnosed prostate cancer patients received good news about treatments at the ASTRO annual meeting held Sept. 25-28 in Boston. In particular, men with intermediate-risk prostate cancer can, with greater confidence, elect prostate brachytherapy without radiation therapy, according to results of a clinical trial comparing outcomes of men treated with both options to those treated with prostate brachytherapy alone.
Additionally, hypofractionated radiation therapy treatments are showing comparable outcomes to conventional radiation therapy, but with the benefit of a much shorter treatment time and, in some situations, reduced risk of late toxicities. These are validations of long-awaited developments in treatment regimens that offer measurable improvements in quality of life for cancer survivors.
NRG Oncology/RTOG 0232: Brachytherapy vs. Radiation Therapy and Brachytherapy
Prostate brachytherapy treatment alone has been a validated option for men diagnosed with early stage, low-risk prostate cancer, but it has not been considered a standard treatment for intermediate-risk prostate cancer. As a result, external-beam radiation has historically been added. This uncertainty has now been alleviated with the announcement of the initial report of five-year outcomes of 588 men treated at 68 cancer centers in the United States and Canada. They participated in the largest randomized phase III clinical trial of its kind, NRG Oncology/RTOG 0232, which started in June 2003.
Principal investigator Bradley Prestidge, MD, medical director of the Bon Secours Cancer Institute at DePaul Medical Center in Norfolk, Virgina, reported that progression-free survival (PFS), the primary outcome measure of the clinical trial, was comparable with or without external-beam radiation. The PFS rate at five years post treatment was 86% for brachytherapy-only patients and 85% for patients who received the more aggressive combination brachytherapy and radiation treatment. Although the percentage of patients in each arm of the study who developed acute grade 3+ toxicities were identical at 8%, the percentage of patients who received only brachytherapy experienced fewer late side effects - 12% compared to 7%. Only 3% of brachytherapy-only patients experienced severe genitourinary (GU) toxicities compared to 7% of the combined treatment group, and 2% compared to 3%, respectively, for severe gastrointestinal toxicities.
The combination treatment patient cohort of 287 men received 45 Gy in 25 treatments of conventional external-beam radiation therapy during a five-week period, followed by interstitial brachytherapy with iodine (I-125) or palladium (Pd-103) seeds prescribed to 110 Gy or 100 Gy respective boost dose, two to four weeks later. The brachytherapy-only patient cohort of 292 men received the same type of brachytherapy treatment, but with a higher dose of 145 Gy or 125 Gy, respectively.
NRG Oncology/RTOG 0415: Hypofractionated RT Does Not Compromise Quality of Life
Hypofractionated radiation therapy for any cancer treatment offers convenience and potential savings to patients, and reduces costs and clinical resources needed for clinicians. With respect to prostate cancer, the sensitivity of the radiation dose administered at each treatment session had been the subject of considerable controversy and intense interest until the results of a noninferiority clinical trial to determine the efficacy of conventional RT with hypofractionated RT was announced in a plenary session of ASTRO's 2015 annual meeting.1 Study chair W. Robert Lee, MD, a radiation oncologist at Duke University Medical Center in Durham, North Carolina, announced that the five-year outcomes for the 1,000+ low-risk prostate cancer participants were comparable. Patients who received the hypofractionated treatment did have a larger number of late grade 2 and 3 gastrointestinal and GU side effects.
Additional findings from this clinical trial were presented in a plenary session of the 2016 annual meeting. Deborah Watkins Bruner, PhD, a professor at the Neil Hodgson Woodruff School of Nursing and a professor of radiation oncology at Emory University School of Medicine in Atlanta, Georgia, announced that additional study of these participants showed that the quality of life of both groups was essentially the same a year after treatment, based on the trial's assessment of bowel, urinary, sexual and hormonal side effects.
Quality of life was assessed with the Expanded Prostate Index Composite (EPIC). Feedback from all the participants was collected at baseline, six months after treatment began, and one year post treatment. The responses of 962 patients were evaluated, representing 88% of the total cohort. The only difference in quality of life was a small, but significantly larger decline in bowel quality of life 12 months following treatment by men in hypofractionated cohort. The difference, however, was not felt to be clinically meaningful.
Men assigned to the hypofractionated arm of NRG Oncology/RTOG 0415 had 28 daily treatments totaling 70 Gy delivered over 5.6 weeks compared to men in the conventional arm who had 41 daily treatments totaling 73.8 Gy delivered over 8.2 weeks.
"We now have sufficient evidence that shorter treatments with hypofractionation are as effective and safe as longer treatments with conventional RT," said Dr. Bruner. "This study shows that we can cut treatment duration, saving patients 2.5 weeks of time away from their jobs, the need to get rides to treatment every day with associated costs, and potentially decreasing their out of pocket co-pay costs as well as overall treatment costs."
HYPO-RT-PC trial: Extremely hypofractionated RT for intermediate-risk patients shows promising toxicity results
Two year follow-up results from a phase III, randomized multi-institutional clinical trial being conducted in Scandinavia that was designed to assess outcomes from highly accelerated extreme hypofractionation show that this extremely shorted treatment for patients with intermediate-risk prostate cancer is comparable to men who receive conventional RT. The study's principal investigator, Anders Widmark, MD, professor and senior consultant in the Department of Radiation Oncology at Umeå University Cancer Center in Umeå, Sweden, announced these findings regarding 1,185 Swedish and Danish men who received treatment between 2005 and 2015.
The hypothesis of the closed and fully recruited HYPO-RT-PC trial was originally to demonstrate a 10% unit increase (from 70% to 80%) in freedom from failure at five years after the end of treatment. The hypothesis has been changed to a noninferiority clinical trial. Dr. Widmark said that 10% of the men enrolled have high risk prostate cancer. The patients presented with tumor stages of T1C to T3a, and prostate-specific androgen (PSA) levels of 20 or below. The majority (82%) had a Gleason score of 7 and higher.
A total of 596 patients received conventional radiation therapy treatment consisting of 78 Gy in 39 treatments of 2 Gy over eight weeks; 589 patients received 42.7 Gy in 7 treatments of 6.1 Gy over 2.5 weeks.
Side effects were measured at baseline, at the end of treatment, and three, six, 12, 18 and 24 months following completion. The findings include 866 patients who reached two-year follow up by May 2016.
Acute bowel toxicity was significantly higher at the end of radiation therapy for patients who received extreme HYPO-fractionated treatment, although these effects diminished after one and two years. Similarly, urinary toxicity increased slightly at one year in the extreme arm. Dr. Widmark reported that both rates of patient-reported toxicity and physician-reported grade 2+ toxicities after two years did not differ significantly between treatment arms. Urinary side effects at two years following treatment were reported for 5.4% of the patients who received extreme hypofractionation compared to 4.6% of the conventional RT treatment group. Hypofractionated patients had slightly fewer bowel side effects, at 2.2% compared to 3.7%, respectively. In addition, 34% of both groups reported impotence; the remainder reported comparable sexual function.
While most of the patients were retired and, therefore, did not lose time from work, many had to travel far and stay at hotels. "For patients, it was a great benefit if they only had to stay in a hotel for two-and-a-half weeks to receive their hypofractionated treatment," said Dr. Widmark.
"Hypofractionated treatment offered a great benefit to the health care system because other patients could be treated during the 'unused' 32 treatment time slots," he added, noting that "hypofractionated treatment represents a better use of healthcare resources for a radiotherapy department."
This study is still ongoing. "Our plan moving forward is to analyze primary endpoint data and present updated toxicity results approximately one year from now," Dr. Widmark said.
REFERENCE
Lee WR, Digman JJ, Amin MB, et al. Randomized Phase III noninferiority study comparing two radiotherapy fractionation schedules in patients with low-risk prostate cancer. J Clin Oncol. 2016;34(20): 2325-2332 (DOI: 10.1200/JCO.2016.67.0448).
Cynthia E. Keen is a freelancer medical writer and regular contributor to Applied Radiation Oncology. She is based in Sanibel Island, Florida.
Back To Top