ASTRO 2016: Data underscore promise of Elekta's high-field MR-adaptive linear accelerator
By News Release
Elekta has announced that its high-field MR-linac was the focus of multiple presentations at the American Society for Radiation Oncology (ASTRO) 2016 Annual Meeting, held Sept. 25-28 in Boston. Additional abstracts presented by members of Elekta's MR-linac Consortium also highlight the need for adaptation of radiation therapy to address moving tumors and nearby organs during treatment sessions. This is important because naturally occurring physiological movements limit the ability to conform the treatment to the target and increase exposure of radiation to healthy tissues.
Elekta's MR-linac will integrate an advanced linear accelerator and a 1.5 Tesla magnetic resonance imaging (MRI) system. Combined, these systems will allow for simultaneous radiation therapy delivery and high-field MR tumor monitoring.
A joint session of ASTRO and the European Society for Radiation Oncology (ESTRO) highlighted the potential for adaptive imaging in radiation therapy during a session titled "In Room Adaptive Imaging with a Focus on MRI." Elekta's MR-linac was featured in two presentations during this session:
"Linac-based MR Device," Christopher Schultz, MD, FACR, Professor in the Department of Radiation Oncology at Froedert and Medical College of Wisconsin. This presentation discussed strategies for integrating MR-linac into current RT protocols and provided an overview of the development plan that the Elekta MR-linac Consortium is undertaking in order to generate the clinical, physics and quality control data that will be essential for developing and realizing the full clinical potential of MR-linac technology.
"MRI Linac: Physics Perspective," Bas Raaymakers, PhD, Professor in the Department of Radiotherapy at University Medical Center Utrecht. This presentation highlighted the potential to leverage the power of MR-linac technology to move from pre-treatment planning to online plan adaptation and, ultimately, to real-time plan adaptation. Dr. Raaymakers also discussed the need for novel quality assurance procedures for MR-linac devices, patients and workflow.
"Online treatment adaptation is the future of radiation therapy and it is essential for enabling surgical precision and accuracy," said John Christodouleas, MD, MPH, vice president of clinical afairs, Elekta, and a practicing radiation oncologist at the Hospital of the University of Pennsylvania. "The Elekta MR-linac Consortium is advancing MR-linac technology toward the clinic. Data demonstrating the feasibility of MR-linac in breast, non-small cell lung cancer and other cancers also highlight required advances in the software and computer algorithms that are critical to transforming online imaging into actionable adaptive replanning."
Additional key findings related to the MR-linac Consortium's development of MR-linac presented at the conference include:
Several additional presentations described the potential for MR-linac and adaptive therapy to enable dose painting – the precise delivery of varying doses of radiation to specific regions within a tumor to account for differences in cell type, location and density from one part of the tumor to another.
"The data presented at this conference support the potential of MR-linac as a key development in the future of radiation therapy and we are encouraged by the Consortium's progress," said Kevin Brown, Elekta's Global Vice President of Scientific Research. "The use of integrated, MR imaging to improve radiation therapy is a topic of widespread interest within the community, and Elekta's MR-linac is poised to deliver an advanced and intuitive treatment experience with the potential to significantly improve patient outcomes and our clinical customer experience."
Elekta's MR-linac is a work in progress and not available for sale or distribution.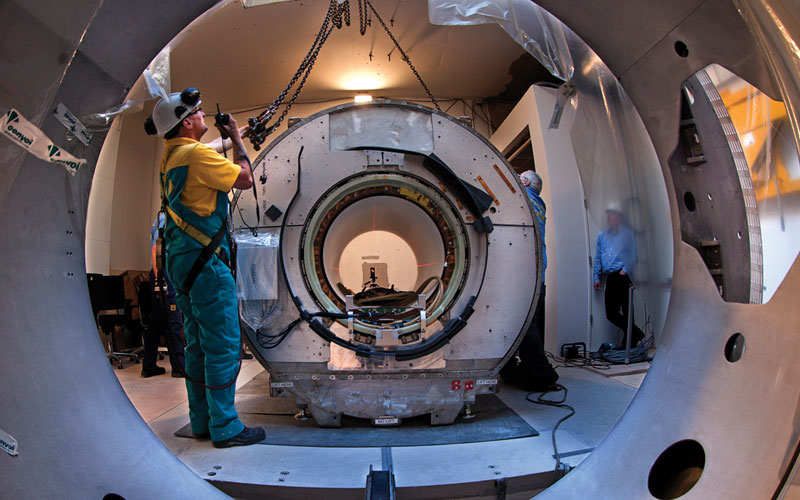 View through assembled gantry ready for the magnet.
Back To Top
---
ASTRO 2016: Data underscore promise of Elekta's high-field MR-adaptive linear accelerator. Appl Rad Oncol.
By
News Release
|
October 05, 2016
About the Author
News Release