ASTRO 2016: IBA, Philips launch patient-centric Ambient Experience for proton therapy
By News Release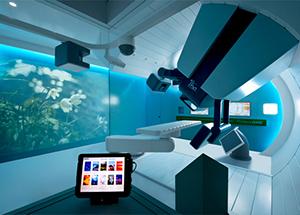 IBA (Ion Beam Applications SA), a provider of proton therapy solutions for the treatment of cancer, and Royal Philips, a health technology company, have launched a dedicated patient-centric Ambient Experience solution for the proton therapy gantry of IBA's ProteusPLUS proton therapy solution, making the Philips solution available for both ProteusONE and ProteusPLUS.*
Designed and engineered by Philips, Ambient Experience is an interactive, patient-focused healthcare environment that uses modern technology and people-centric design to create a more comfortable and soothing experience for patients and staff, helping to improve workflows and increase operational effectiveness. Implemented in IBA's proton therapy gantries, patients can select their preferred theme, light, sound and video prior to treatment. By enhancing the clinical environment, Philips Ambient Experience improves patient comfort and staff experience and satisfaction. In 2014, Philips received an international Red Dot Award for product design for its ProteusONE Ambient Experience solution.
The new Ambient Experience development is part of a broader collaboration between the two companies that also includes the joint marketing and sales of IBA's proton therapy solutions and Philips' imaging and clinical informatics solutions.
"Cancer treatment can be a frightening experience, so making the environment as pleasant as possible is essential to reduce stress," said Prof. Karol Sikora, Chief Medical Officer of UK-based Proton Partners International, which is building three proton therapy centers. "We believe lighting, design and music will help to create a relaxing and soothing experience. And it will make our staff more relaxed too, by creating an atmosphere of greater empathy. We look forward to operating our first center with Philips Ambient Experience next year in Newport, Wales."
In 2016, IBA and Philips plan to equip four additional rooms in the United States: three ProteusPLUS rooms in the Miami Cancer Institute, and one Proteus®ONE at the Royal Oak in Beaumont Michigan. In addition, Philips and IBA have a pipeline of rooms to be equipped with Philips Ambient Experience features in the UK, Middle East, US and Taiwan.
* ProteusONE and ProteusPLUS are the brand names of the Proteus235
Back To Top
---
ASTRO 2016: IBA, Philips launch patient-centric Ambient Experience for proton therapy . Appl Rad Oncol.
By
News Release
|
October 06, 2016
About the Author
News Release