ASTRO 2016: iCAD presents data supporting Xoft system for early stage breast cancer, nonmelanoma skin cancer
By News Release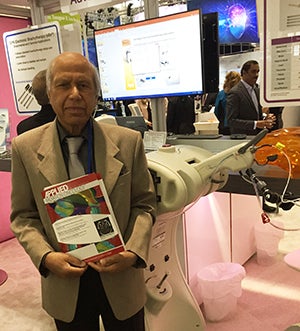 iCAD Inc., a provider of advanced image analysis, workflow solutions and radiation therapy for the early identification and treatment of cancer, has presented updated clinical data supporting use of the Xoft Axxent Electronic Brachytherapy (eBx) System for the treatment of nonmelanoma skin cancer and early stage breast cancer at the American Society for Radiation Oncology (ASTRO) meeting in Boston Sept. 25-28.
The company also showcased its latest electronic brachytherapy technology and hosted clinician experts at its booth (#4087) to review their experience with the Xoft System.
"The Xoft System offers our customers the versatility to treat multiple cancer types in one integrated system. Our advanced platform technology streamlines the delivery of care, increasing patient satisfaction and positioning the facility as a leader in patient-centric, value-based medicine," said Ken Ferry, CEO of iCAD.
At the meeting, Alam M. Nisar Syed, MD, (above) presented poster #2134, which reflected clinical data from the treatment of 827 women with early stage breast cancer at 27 hospitals. The findings conclude that IORT with the Xoft System is safe, with low morbidity and excellent-to-good cosmetic results with a low rate of low-grade adverse events.
Ajay Bhatnagar, MD, MBA, presented poster #3750 with data showing that 96 percent of nonmelanoma skin cancer (NMSC) patients surveyed between 32 to 72 months post-treatment with Xoft eBx were satisfied with their clinical and cosmetic treatment outcomes. Dr. Bhatnagar's research also includes updated data for the treatment of 282 lesions in 187 patients with NMSC, mean age 77 years, showing only three recurrences and good-to-excellent cosmesis at up to five years post-treatment for nearly all patients.
"A growing body of research continues to highlight the Xoft System's clinical success and drive interest in adopting electronic brachytherapy from customer sites around the world. We are particularly encouraged by customer engagement and increased traction for the skin eBx application, which is further supported by positive clinical data," added Ferry.
Posters are displayed on the exhibit level in Hall C from 10 a.m. to 5 p.m. throughout the meeting. iCAD will also host a series of "Meet the Experts" sessions in the Xoft booth (#4087) from noon to 1 pm on Sept. 25-27. Details are as follows:
Alam M. Nisar Syed, MD
Medical director, radiation oncology & endocurietherapy,
Memorial Care Cancer, Institute Long Beach Memorial Medical Center
Monday, Sept. 26
Tuesday, Sept. 27
Gary Proulx, MD
Medical director, Exeter Hospital Radiation Oncology
Sunday, Sept. 25
Monday, Sept. 26
Tuesday, Sept. 27
May-Lin Tao, MD, MSPH
Medical director and radiation oncologist, The Center for Radiation Therapy of Beverly Hills
Visitors to booth #4087 will also have the opportunity to demo iCAD's latest advancements in radiation technology, including the company's new Streamlined Module for Advanced Radiation Therapy (SMART) solution and Axxent Hub cloud-based oncology collaboration software solution, which support practices utilizing the Xoft System for the treatment of NMSC. The company's new extended-life X-ray source and cervical applicator will also be available for demonstration, as well as its investigational line of general intraoperative radiation therapy (IORT) applicators, which are being shown as works in progress for the treatment of prostate, head/neck, abdominal, and brain cancers.
Back To Top
---
ASTRO 2016: iCAD presents data supporting Xoft system for early stage breast cancer, nonmelanoma skin cancer. Appl Rad Oncol.
By
News Release
|
September 27, 2016
About the Author
News Release