ASTRO 2016: Mevion, RaySearch support RayCare OIS and HYPERSCAN with Adaptive Aperture IMPT
By News Release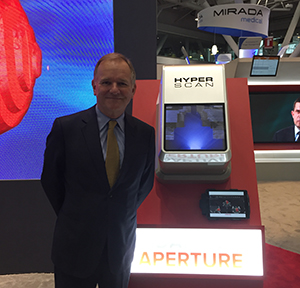 RaySearch and Mevion Medical Systems, two leaders in proton therapy, are extending their collaboration agreement to support the RayCare oncology information system (OIS), which is in development at RaySearch, and to take full advantage of the advanced treatment capabilities of the MEVION S250i with HYPERSCAN with Adaptive Aperture. The agreement was announced at the 58th annual meeting of the American Society for Radiation Oncology (ASTRO) in Boston, Sept 25-28.
RayCare is the next-generation OIS, developed from the ground up by RaySearch to support the complex logistical challenges in modern, large-scale radiation therapy centers. RayCare integrates the high-performance radiation therapy algorithms available in RayStation and adds advanced features for clinical resource optimization, workflow automation and adaptive radiation therapy. The system is expected to be released in 2017.
Adaptive Aperture is a proprietary low-profile micro-multileaf collimator system designed specifically for HYPERSCAN pencil-beam scanning. Its unique layer-by-layer beam collimation and blocking achieves unprecedented 1 to 3millimeter collimated spot sizes, for all energies, at any depth. Under the agreement, RaySearch will develop planning capabilities to support the layer-by-layer collimation of Adaptive Aperture.
Previous collaboration between RaySearch and Mevion has led to impressive results at Mevion customer sites, such as Ackerman Cancer Center (ACC) in Jacksonville, Florida, which commissioned RayStation for its MEVION S250 in two weeks. The center is now treating more than 40 patients per day in one proton therapy room.
Townsend Zwart, Senior Director of Advanced Development at Mevion Medical Systems, says, "Adaptive Aperture is ideal for intensity-modulated proton therapy (IMPT) because it creates the sharpest penumbra physically achievable without the need for manual apertures and adjustments. We are excited to extend our relationship with RaySearch to help radiation oncologists make the most of this advanced technology."
Back To Top
---
ASTRO 2016: Mevion, RaySearch support RayCare OIS and HYPERSCAN with Adaptive Aperture IMPT. Appl Rad Oncol.
By
News Release
|
October 10, 2016
About the Author
News Release