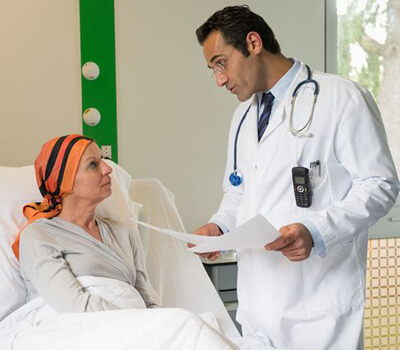 Radical surgery or radiation therapy can cure most women diagnosed with early stage cervical cancer. However, a study from the Netherlands comparing long-term morbidities and quality of life (QoL) suggests that problems after radiation therapy may have a greater effect on QoL than surgery for these cancer survivors.
Researchers from the Centre for Gynaecological Oncology in Amsterdam and the Leiden University Medical Center in Leiden, Netherlands, asked cervical cancer survivors about post-treatment experiences and their impact. The findings of a detailed, validated self-administered questionnaire answered by 323 patients were recently published in the International Journal of Gynecological Cancer.1
Treatment-induced Morbidities
A patient undergoing a radical hysterectomy with pelvic lymphadenectomy (RHL) may sustain damage to sympathetic and parasympathetic branches of the autonomous innervation and blood supply of pelvic organs. This may lead to voiding difficulties and colorectal dysfunction. Sexual function may also be negatively impacted from shortening of the vagina and lubrication issues. In addition, external pelvic radiation therapy treatment followed by brachytherapy may damage bladder mucosa, and may cause a fibrotic bladder wall resulting in a low-compliant bladder or an overactive bladder with symptoms such as urgency and frequency. Other possible side effects include stool incontinence, diarrhea, mucosal atrophy, vaginal dryness, painful intercourse and, as a result, loss of libido.
Surgery offers the psychological benefit that the cancer has been removed, and for a selected group of women, no additional treatment, specifically radiation therapy, is needed. Radiation therapy, however, may be the only choice for patients with substantial comorbidities, who are obese, and who are elderly.
Marloes Derks, MD, of the Department of Gynaecologic Oncology at the Centre for Gynaecological Oncology, and co-authors stated that while both treatments have similar rates of induced morbidity, the character of the symptoms differ and are often difficult to compare.
Women who enrolled in a large multicenter study to identify sexual complaints and to evaluate the need for treatment were invited to participate in the morbidity and QoL study. Out of 708 eligible patients, 263 patients who had surgery and 60 patients who had undergone radiation therapy responded. The surgical group had a broader age range (25-69 years) compared to the radiation therapy group (31-69). The majority (82%) of women in the surgical group also had a lower stage cancer (FIGO 1B1) compared to only 20% in the radiation therapy group.
The validated European Organization for Research and Treatment of Cancer (EORTC) questionnaires addressed abdominal pain, back pain, incontinence for urine and stool, frequent voiding, dysuria and obstructive voiding, bloody stool, vaginal pain, discharge, and blood loss. Topics relating to QoL were also included.
Patients who underwent radiation therapy had higher levels of fatigue, pain, insomnia, nausea, and vomiting. Twice as many of these women reported appetite loss and diarrhea. Women who had surgery experienced more constipation, and twice as many experienced lymphedema in one or both legs.
Two-thirds of the women in each group reported that they were sexually active. More of these women in the surgery group stated that they were more sexually active and enjoyed sex more than women in the radiation therapy group. The radiation therapy group reported more problems concerning sexual vaginal functioning and were more worried about sex.
More Informed Patients
The authors acknowledge that the study may have selection bias due to its voluntary nature. However, they believe that self-reported primary outcome measurements provide valuable feedback that can benefit newly diagnosed cervical cancer patients considering each treatment option.
"It is well-known that the character of symptoms after radiotherapy differ from those after surgery. The 'unexpected' character of these symptoms, such as incontinence, are more likely to affect QoL. This was confirmed in our study," Dr. Derks told Applied Radiation Oncology. "One should take into account when choosing one treatment or the other the fact that treatment-induced problems after surgery frequently decline in time, whereas those after radiation therapy are likely to get worse."
The authors note that preferences for treatment strategies vary depending on multiple disease- and patient-related factors, and that quality of life assessment is based on individual factors. However, they encourage physicians to use their findings to educate and inform their patients of treatment-related morbidities so these women can make a more educated choice.
REFERENCE
Derks M, van Lonkhuijzen LRCW, Bakker RM, et al. Long-term morbidity and quality of life in cervical cancer survivors: A multicenter comparison between surgery and radiotherapy as primary treatment. Int J Gynecol Cancer. 2017;27(2)350-356.
Back To Top