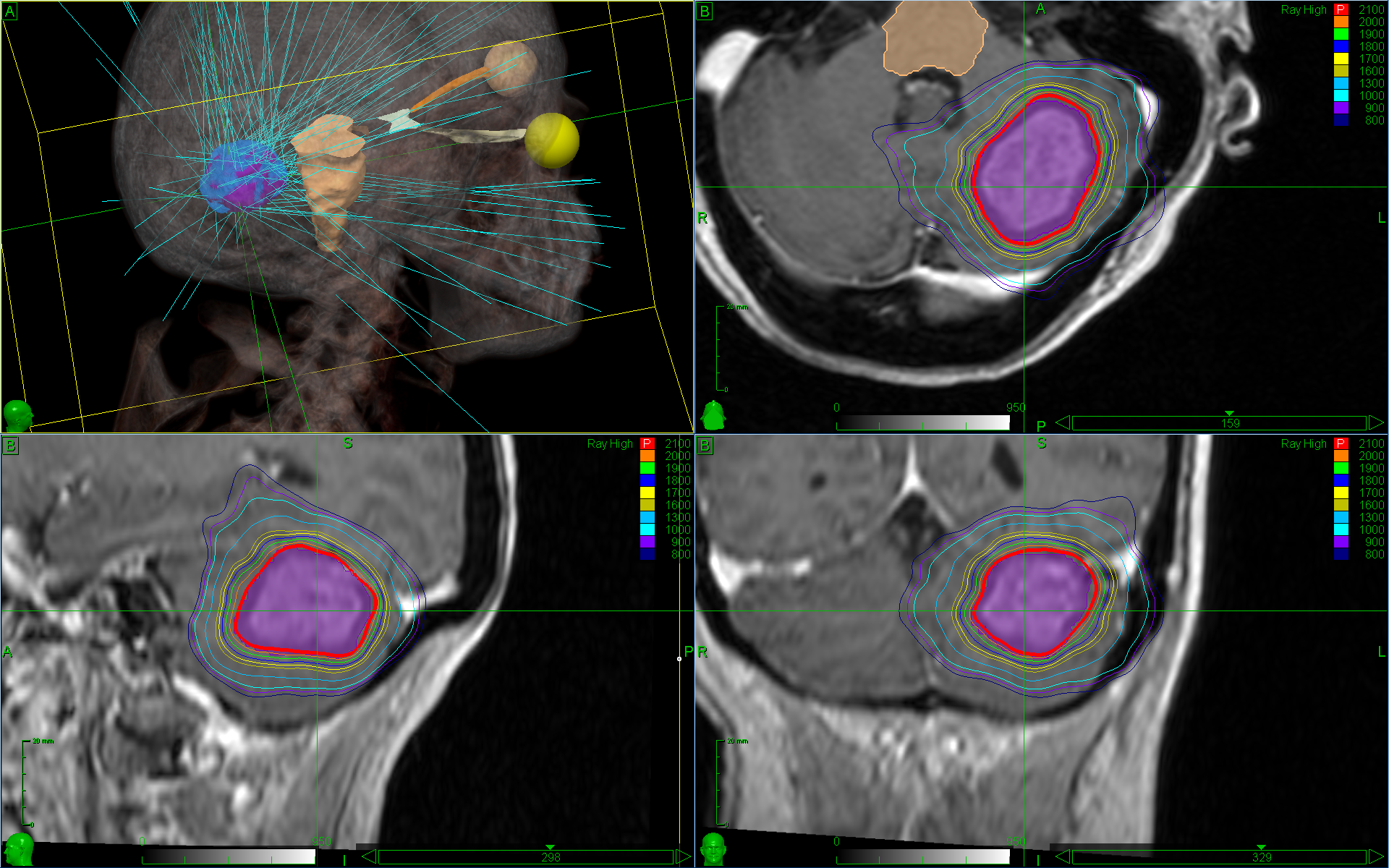 Methods of treating brain metastases have been the subject of many articles and commentary in peer review journals over the past few years, with stereotactic radiosurgery (SRS) increasingly being favored over whole-brain radiation therapy (WBRT). Even when SRS is available at a treatment center, the radiation therapy a patient with multiple brain metastases receives may depend exclusively on the mindset of the radiation oncologist the patient consults with, according to research published online in Cancer.1
Examining Practice Trends
A survey sent to members of American Society for Radiation Oncology (ASTRO) by researchers at the David Geffen School of Medicine, University of California at Los Angeles (UCLA), suggests that radiation oncologists who specialize in treating central nervous system (CNS) cancers at high-volume treatment facilities are more willing to recommend SRS for patients with multiple metastatic brain lesions. They probably are more willing to try new innovations, or have more experience using new technology with favorable clinical outcomes. Mirroring recent literature, survey responses suggest there is no consensus among practicing radiation oncologists regarding the optimal treatment strategy of 3 or more metastatic brain lesions.
Principal investigator Percy Lee, MD, director of SBRT in the Department of Radiation Oncology, Jonsson Comprehensive Cancer Center, and colleagues investigated the relationship between characteristics of physician and institutional providers and treatment decision-making to better quantify the anecdotal knowledge that regional and institutional differences exist in the use of SRS and WBRT. In their 2016 survey, more than 5,600 practicing radiation oncologists were asked to choose management strategies in different scenarios for a variety of patients with differing numbers of brain metastases.
"We wanted to find out what practicing radiation oncologists were thinking," said Dr. Lee. "At UCLA, we feel that SRS is a good option for patients that have 3-10 metastases — a middle range — as this treatment can eliminate the metastases and preserve brain function. Can SRS be used in patients with more than 3 metastases? Every day doctors face patients with 3 or more metastases, and they are unclear how to treat, because there are no guidelines, and there still is not enough clinical data to support one treatment form over another."
Out of 711 responses, a rate of 12.5%, 678 could be analyzed.1 Of these 678 participants, 47% were specialists, and 17% were CNS specialists; 41% were affiliated with academic institutions, 36% with community hospitals, and 17% with freestanding cancer treatment centers.
Responses were consistent in recommending SRS within published guidelines — specifically to treat 1-3 brain metastases. The authors reported that respondents who were CNS specialists more frequently chose to use SRS over WBRT for patients with 3-10 brain metastases. They were also more likely to treat patients with SRS even within the setting of prior RT or uncontrolled extracranial disease.
Another statistically significant finding was that CNS specialists had a higher metastases cutoff number to switch from SRS to WBRT than nonspecialists. Non-CNS specialists who treated up to 10 patients with brain metastases per month maintained an even cutoff at 5 brain metastases. Interestingly, the cutoff among CNS specialists increased in correlation to the number of patients they saw, with those treating 5 or fewer patients reporting a cutoff range of 4 to 5.5 metastases, and increasing steadily to 8 metastases from 5 to 10 patients treated per month.
"We were intrigued to find that brain cancer experts were far more likely to choose SRS in patients with as many as 8 metastases," said Dr. Lee. "Nonexperts were more likely to follow published guidelines and limit SRS to patients with 3 metastases or less."
The survey also included questions about SRS treatment dose for a patient with a single subcentimeter brain metastasis in a noneloquent area. The authors reported that 41% of respondents selected 20-22 Gy, with 36% selecting a dose under 20 Gy and the remainder over 22 Gy. Neither specialization, patient volume, or venue were statistically significant. Responses about what dose and fractionization for WBRT treatment were more consistent, with 66% recommending 30 Gy in 10 fractions.
The authors had hypothesized that academic vs. nonacademic practice settings would impact the use of SRS. This was not the case. Rather, the survey revealed that patients with brain metastases were more likely to receive different treatments depending on the type of radiation oncologist they see, and that patients treated in academic centers are more likely to have neurosurgery involvement in their SRS treatment.
"We feel our work really highlights the need for more patient and clinical outcomes research for patients receiving SRS that have more than 3 metastases. Currently, doctors have no guidance, no evidence or data that can help them choose the right way to treat these patients. The guidelines need to be updated, refined, and be more in-depth," he stressed.
Dr. Lee told Applied Radiation Oncology that because of the lack of consensus, more research is needed to "prove" whether SRS vs. WBRT is better for patients with 3-10 brain metastases. "A radiation oncologist who strictly follows current guidelines might offer a patient with 5 brain metastases WBRT, whereas one who believes in treating with newer technology and pushing the envelope might offer the same patient SRS," he said. "However, the potential consequences of such different treatment can be large. Neither treatments can be considered 'wrong,' but more data would help guide treatment and make treatment more consistent toward a better outcome."
The Shrinking Role of WBRT
Two recent viewpoint articles in JAMA Oncology represent data radiation oncologists must consider., Minesh P. Mehta, MD, of the Miami Cancer Institute and co-authors reference findings from clinical trials that "have raised important questions regarding WBRT." They note that "the slippery slope is that SRS has never been shown to improve survival except for those with a single brain metastases, in spite of enhancing local control."
They acknowledge that SRS reduces the risk of developing neurocognitive dysfunction, but also question whether neurocognitive dysfunction induced by relapse is worse than WBRT.2 "Should our efforts focus on developing novel approaches to delivering SRS in a way that maximizes intracranial control with minimal cognitive and QOL sequelae?" they ask.
Jing Li, MD, PhD, of the University of Texas and MD Anderson Cancer Center in Houston and Paul D. Brown, MD, of the Mayo Clinic in Rochester, Minnesota, believe the utility of WBRT is diminishing.3 They cite emerging evidence supporting SRS as an appropriate treatment for patients with 4-10 brain metastases.
"WBRT improves intracranial control, but is associated with significant long-term adverse effects, such as neurocognitive decline and impaired QOL [quality of life]," they write, noting that lack of survival benefit is likely multifactorial. "Increasing evidence has pointed toward the advantages of SRS with close surveillance in patients with brain metastases, particularly as targeted and immunotherapies are developed that have both systemic and intracranial activity."
REFERENCES
Sandler KA, Shaverdian N, Cook RR, et al. Treatment trends for patients with brain metastases: does practice reflect the data? Cancer. Published online February 8, 2017. (doi: 10.1002/cncr.30607).
Mehta MP, Aoyama H, Gondi V. The changing role of whole-brain radiotherapy: demise or time for selective usage? JAMA Oncol. Published online January 5, 2017. (doi: 10.1001/jamaoncol.2016.5414).
Li J, Brown PD. The diminishing role of whole-brain radiation therapy in the treatment of brain metastases. JAMA Oncol. Published online January 5, 2017. (doi:10.1001/jamaoncol.2016.5411).
photo/courtesy: brain metastases treatment plan from Cyberknife (Accuray, Sunnyvale, California)
Cynthia E. Keen is a freelance medical writer and regular contributor to Applied Radiation Oncology. She is based in New York, NY.
Back To Top