Elekta introduces Venezia for treating advanced stage cervical cancer
By News Release
Image Gallery
At the World Congress of Brachytherapy, June 27-29 in San Francisco, Elekta introduced Venezia, a new option for treating advanced stage cervical cancer. Venezia is an advanced gynecological applicator that provides clinicians with improved access to stage IIIA, IIIB and IVA tumors in the cervix, parametrium and vaginal extensions.
Venezia allows clinicians to treat advanced stage cervical tumors that previously required specialized techniques such as free-hand needle placement. The applicator offers an easy way to reach tumors through a combination of straight and oblique needles with reproducible and consistent needle placement.
"Treating advanced stage cervical cancer has historically been challenging because many existing brachytherapy applicators could not always reach the tumor," said Ben Pais, vice president Medical Affairs, Elekta. "With a patented snap-fit design, Venezia reduces the complexity of treating advanced stage cervical cancer and shortens implantation time in the operating room. Venezia is a versatile and intuitive clinical tool that is also well suited for treating earlier stage disease."
"With its hybrid brachytherapy applicator, Venezia combines the best characteristics of both ring and ovoid devices," noted Richard Pötter, MD, professor and head of the Department of Radiation Oncology at the Medical University of Vienna, and one of Venezia's developers. "With Venezia, we expect to realize the benefits of the ovoid's simple applicability and the ring applicator's reproducible dose distribution, which allows predictable radiation delivery into the proximal and distal parametria. Venezia has the potential to become a universal applicator for use in treatment of cervical cancer as well as cancers in the uterus and the vagina."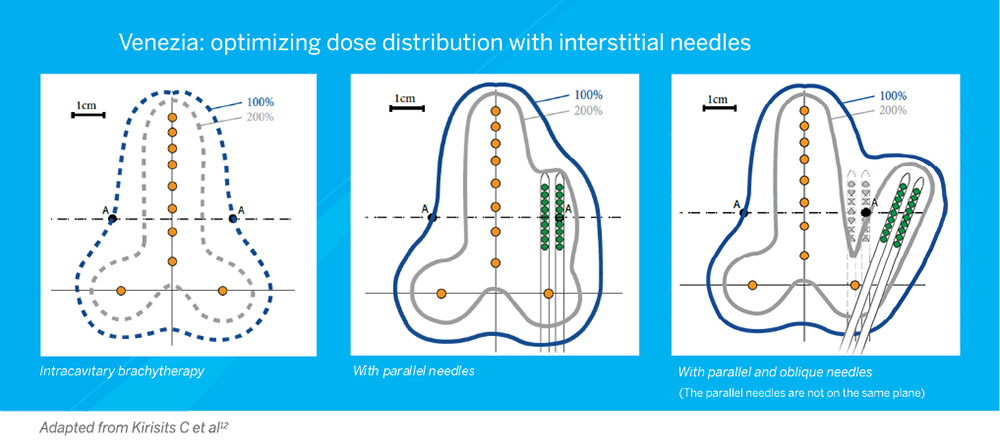 To learn more about Venezia, visit: https://wavelength.elekta.com/2016/04/new-brachytherapy-applicator-expands-reach-of-gyn-cancer-treatment/.
Venezia is not available for sale or distribution in all markets, is not for sale in the United States and is pending 510(k) clearance.
Back To Top
---
Elekta introduces Venezia for treating advanced stage cervical cancer. Appl Rad Oncol.
By
News Release
|
July 11, 2016
About the Author
News Release