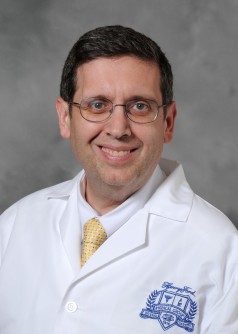 Benjamin Movsas, MD, chair of the Department of Radiation Oncology at Detroit's Henry Ford Health System, has again been appointed chair of the American Society for Radiation Oncology (ASTRO) Annual Meeting Scientific Program Committee. Dr. Movsas also served in this role for the organization's 2015 annual meeting.
ASTRO, a prestigious cancer organization with more than 10,000 members worldwide who specialize in treating patients with radiation therapy, will hold its 58th annual meeting Sept. 25-28 in Boston. It is the largest international meeting in the field of radiation oncology.
In his appointed role, Dr. Movsas oversees the Scientific Program Committee's abstract selection process for this month's annual meeting.
The committee is comprised of hundreds of radiation oncology experts from across the world whose job is to carefully review and analyze every submitted abstract. This year, Dr. Movsas says the Scientific Program Committee reviewed about 3,000 abstract submissions for ASTRO's 2016 annual meeting. The committee determined which abstracts would be presented in the annual meeting's plenary session and its clinical trials session.
"Our theme this year of enhancing value and improving outcomes is really critical to the future of our field," says Dr. Movsas. "In radiation oncology, we have the latest technologies, so we are always looking for new, innovative approaches to help our patients in ways that provide them with the greatest value during their cancer care."
In 2012, Dr. Movsas was presented with the designation of Fellow of the American Society for Radiation Oncology, one of the most prestigious honors that ASTRO offers.
Dr. Movsas received his medical degree from the Washington University School of Medicine. He is an expert in radiation oncology, stereotactic radiosurgery, lung cancer, prostate cancer, and quality of life issues pertaining to cancer. He has published extensively on the topic of radiation therapy for cancer in many prestigious medical journals and regularly presents his research findings at some of the nation's top medical meetings.
To watch the video of Dr. Movsas discussing ASTRO's upcoming annual meeting, go to www.astro.org/2016-Annual-Meeting.aspx.