June 8 - Leah's Legacy: Children's Book "Wings of Courage" Tribute to 5-Year-Old Livonia Girl Who Fought Cancer
By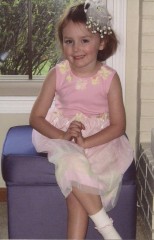 Leah James loved purple, Nemo and storybooks. She was also well known for her contagious smile and the phrase "my heart is happy" even when she was fighting cancer at age 4.
Nearly 10 years after the Livonia preschooler lost her battle to an inoperable brain tumor, she has inspired a children's book designed to help other families like hers cope with a cancer diagnosis at the University of Michigan's C.S. Mott Children's Hospital.
"Wings of Courage," produced by U-M's Department of Neurosurgery, will be given to all pediatric cancer patients at Mott and also be available May 28 on Amazon with proceeds funding the book's redistribution at the hospital.The book was created thanks to a $15,000 donation from the Livonia-based foundation created in Leah's memory, Leah's Happy Hearts.
"One of the hardest parts about having your child diagnosed with an illness is feeling isolated," Leah's mother Karen James says. "You tend to notice all the healthy families and children around you and feel like you are the only one going through something like this.
"We hope this book inspires hope in children fighting cancer as well as their families and helps them feel less alone. Even through radiation treatments, Leah expressed joy and showed far more courage than we could have ever imagined. We hope to share her beautiful, cheerful, kind spirit through this story and that it helps other children find courage too."
While the book is fictional and not Leah's story, she inspired the main character "Leah" who is learning to be strong and brave while fighting a brain tumor. When her butterfly at school seems scared to fly away, she shares the story of how she finds courage when she is scared, helping the butterfly spread its wings and take flight for the journey ahead. The book was written by Northville third grade teacher Sue Beth Balash who has had students with cancer in her classes.
"As a neurosurgeon, I have always been amazed by the strength, and yes – the courage – of young patients with cancer. They will inspire you, and they will teach you the grace that we all need, but too often forget," says CNN Chief Medical Correspondent and U-M alum Sanjay Gupta, M.D. "As a dad of three girls, I am far more sentimental than I used to be, and the tears come more easily, as they did while reading this beautiful book. We hope and pray our own children never go through what Leah did but we also hope they can have the courage Leah does, if it ever happens."
Former U-M School of Art and Design student Ellen Nelson created the bold and bright illustrations in "Wings of Courage," and the book was published by U-M Publishing. It will be sold at a retail value of $9.99.
"The innocence and honesty of children are only matched by their resilience and ability to thrive even under the most adverse of circumstances," says Karin Muraszko, M.D., F.A.C.S., chair of the U-M Medical School's Department of Neurosurgery. "Wings of Courage will help children, parents, family members and caregivers have a meaningful dialogue about how to support a child who is battling a serious illness. It will confirm the amazing optimism within children and inspire hope for tomorrow."
"The overarching goal of this book is to bring joy to someone who is going through a tough time, especially a child who needs to find courage," adds author Sue Beth Balash. "We hope this children's book gives just a little bit of joy and encouragement to the child who is reading it."
Additional Information:
For more about "Wings of Courage:"www.mottchildren.org/wingsofcourage
To donate to pediatric brain cancer research at the University of Michigan:leadersandbest.umich.edu/find/#!/give/basket/fund/364178
Back To Top
---
June 8 - Leah's Legacy: Children's Book "Wings of Courage" Tribute to 5-Year-Old Livonia Girl Who Fought Cancer. Appl Rad Oncol.