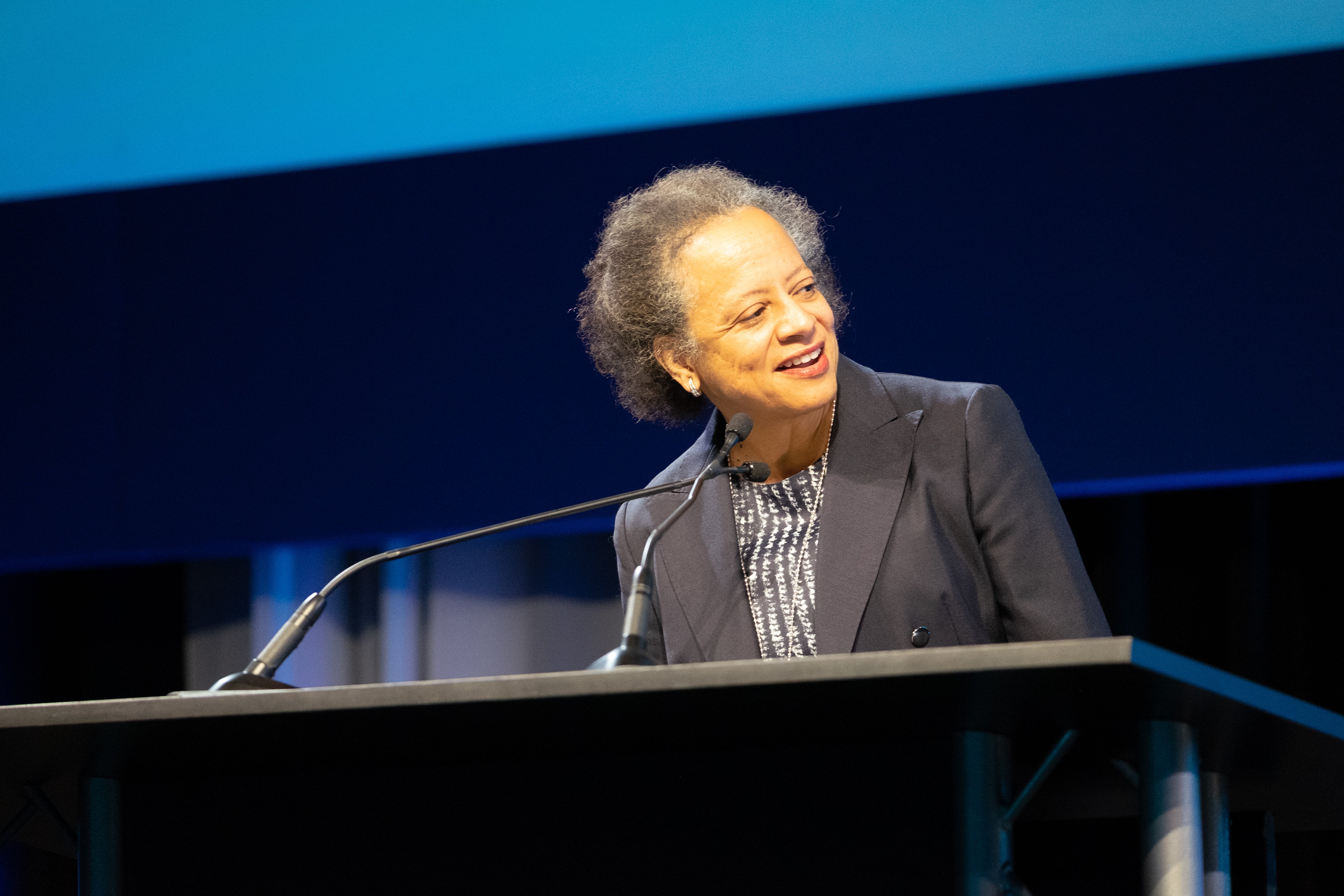 A new review session at ASTRO's 61st annual meeting held Sept.15-18 in Chicago highlighted the most important breakthroughs and practice-changing trials in radiation oncology from the year's largest cancer research meetings.
Called Cancer Breakthroughs, the session summarized findings presented at the annual conferences of the American Society of Clinical Oncology (ASCO), the American Association for Cancer Research (AACR), the American Association of Physicists in Medicine (AAPM), and the Radiation Research Society (RRS). ASTRO members who attended these meetings presented updates they felt were exciting and important to share with fellow radiation oncologists. Part 1 of this article reviews leading research from ASCO.
ASCO: Breast Cancer
Lori Pierce, MD, FASTRO, FACRO, president-elect of ASCO and professor of radiation oncology at the University of Michigan in Ann Arbor, selected findings of 2 phase III clinical trials: the MONALEESA-7 investigating the impact of ribociclip/endocrine therapy as a first-line treatment for advanced breast cancer in premenopausal women, and the first trial to investigate the impact of whole-brain radiation therapy (WBRT) on melanoma brain metastases.
"About 70% of women with hormone receptor positive, HER2-negative (HR+/HER2-) have early stage breast cancer, and endocrine therapy has been a mainstay for these patients. Tamoxifen also helps improve survival," said Dr. Pierce. "But the story is very different in women with advanced stages of this type of cancer. Their 5-year survival statistics are generally less than 25% due to primary or acquired resistance to endocrine therapy. For these patients, the therapeutic goals are quite different: to delay disease progression and symptomatic progression and. if possible, achieve an improvement in survival."
She explained that because a primary issue is resistance to endocrine treatment, much research has focused on pathways that could contribute to resistance. Alterations in cyclin-D-CDK4/6-Rb pathways have been associated with breast cancer endocrine resistance.
Three recent phase III randomized clinical trials co-targeting estrogen receptor (ER) signaling pathways and cell proliferation signaling pathways were conducted with postmenopausal women. All 3 showed consistent, positive results with the addition of CDK4/6 inhibitors to endocrine therapy.
The randomized MONALEESA-7 trial, led by Sara A. Hurvitz, MD, director of the breast cancer clinical research program at the UCLA Jonsson Comprehensive Cancer Center in Los Angeles, evaluated ribociclib plus endocrine therapy exclusively in peri- and premenopausal women under age 59 with HR+/HER2- advanced breast cancer. "This is the only study that has been conducted to evaluate CDK4/6 inhibitors exclusively in premenopausal women," said Dr. Pierce.
Ribociclib plus endocrine therapy with ovarian suppression demonstrated a significantly longer progression-free survival compared with endocrine therapy treatment alone as initial endocrine therapy. The treatment was associated with an approximate 29% relative reduction in risk of death, the first time a statistically significant improvement in overall survival has been observed with a cyclin-dependent kinase (CDK) 4/6 inhibitor plus endocrine therapy in this type of premenopausal patient. The estimated overall survival at 42 months following treatment was 70.2% in the ribociclib group compared with 46% in the endocrine therapy alone group.1
"The survival was clearly significant, and it was astoundingly positive," Dr. Pierce said. "Put this in context: Almost all of these patients had metastatic cancer. At 36-month follow-up, patients who received ribocliclib and endocrine therapy had 72% survival compared to 65% for the endocrine-only group, and at 42 months, the difference was even greater: 70% compared to 46% respectively."
Interestingly, a study of the subgroup of women who took tamoxifen revealed that it did not provide any benefit. Toxicities for ribociclib were greater, with 64% experiencing grade 3 or 4 neutropenia compared to 5% for the endocrine group. However, ribociclib's benefits extend beyond overall survival. It also lengthens the time to subsequent chemotherapy and is providing equally impressive progression-free survival rates.
"The success of this randomized clinical trial has spun off others that are focused on the benefits of CDK 4/6 inhibitor plus endocrine therapy in women with early stage breast cancer," said Dr. Pierce. "We excitedly awaiting what the outcomes will be."
ASCO: Melanoma Brain Metastases
The use of WBRT to treat patients with brain metastases is debatable, Dr. Pierce told session attendees. Four major clinical trials have shown that it does not increase survival benefit and may seriously affect patient cognition. However, these trials predominantly included patients with advanced breast and lung cancer.
"Melanoma accounts for approximately 10% of brain metastases and is the third most common cancer leading to cerebral metastases after lung and breast cancer," said Dr. Pierce. "No clinical trial had been conducted focusing on the impact of WBRT. The Melanoma Institute Australia, an affiliated network of melanoma researchers and clinicians based in Sydney at the Poche Centre, the world's largest melanoma research and treatment facility, launched this randomized clinical trial to help determine if there is a role for adjuvant WBRT following surgical resection or stereotactic radiosurgery (SRS)."
Over a 10-year period, 215 patients stratified by age, sex, and 1- or 2-3 brain metastases were assigned to a group receiving 30 Gy in 10 fractions of WBRT or observation. All patients were permitted to have systemic therapy. Patients were followed at a median of 48 months.
Angela Hong, MD, PhD, professor of radiation oncology, and co-researchers reported at ASCO that patients who received WBRT had a 20% local failure rate compared with 33.6% for the observation group and a distant intracranial failure rate of 42% compared to 50.5% within 12 months following treatment. But patients who underwent WBRT demonstrated significant decline in neurocognitive function, and these patients had significantly higher grade 1 to 2 acute toxicity. There was no significant difference in survival outcomes, with a reported death rate of 41.5% for the WBRT group and 51.4% for the observation group.2
"What I found interesting is that during the ASCO presentation, the researchers said that adjuvant WBRT does not provide clinical benefit and improve intracranial control, survival, or performance status after local treatment of 1 to 3 melanoma brain metastases," said Dr. Pierce. "The difference in the distant intracranial failure represented a trend, a discreet difference in the outcomes, which could continue over time. And patients who only had a single lesion had better outcomes.
"The fact that approximately 50% of patients will experience intracranial progression within 6 to 12 months of treatment is a daunting problem, and better therapy is needed," she stressed. Toward this end, the Melanoma Institute Australia has launched a new clinical trial -- the ABC-X Trial, which is randomizing patients receiving nivolumab plus ipilmubab into a group to receive SRS (1 16-22 Gy fraction or 24-30 Gy hypofractionated treatment for larger lesions in asymptomatic patients) or not to undergo SRS. The ABC-X's objective is to document the benefit of SRS in melanoma patients with intracranial brain metastases. The trial's primary endpoint is 10-month survival outcomes.
"Management of patients with brain metastases from melanoma requires multidisciplinary care. As radiation oncologists, we need to continue to write and support the trials that will ultimately determine optimal treatment," concluded Dr. Pierce.
REFERENCES
Im SA, Lu YS, Bardia A, et al. Overall survival with ribociclib plus endocrine therapy in breast cancer. N Engl J Med. 2019;381(4):307-316.
Hong AM, Fogarty GB, Dolven-Jacobsen K, et al. Adjuvant whole-brain radiation therapy compared with observation after local treatment of melanoma brain metastases: a multicenter, randomized phase III trial. J Clin Oncol. Published online September 25, 2019. doi.10.1200/JCO.19.01414.
Editor's note: Part 2 will appear in the November enewsletter of Applied Radiation Oncology.
Back To Top