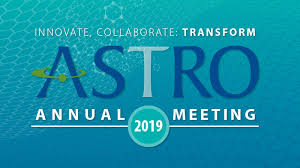 The theme of ASTRO's upcoming annual meeting in Chicago Sept. 15-17—Innovate, Collaborate: Transform—features a dual inward and outward focus. It's outward in that it presents members with the latest scientific knowledge and treatment innovations in the ever-evolving radiation oncology discipline. And it's inward in making the meeting a more effective, meaningful and efficient process for the estimated 10,000-plus attendees converging in the Windy City and for virtual participants across the globe.
ASTRO 2019 represents the beginning of a three-year transformation to accelerate the impact and the value of the meeting, as well as to become more accessible for oncologists and other clinical and administrative cancer care professionals. Applied Radiation Oncology talked with annual meeting program chair Lisa Kachnic, MD, chair of Columbia University Vagelos College of Physicians and Surgeons and chief of radiation oncology service at NewYork-Presbyterian/Columbia University Irving Medical Center in New York City about re-imagining and reinvigorating this trend-setting society meeting.
"ASTRO's annual meeting has always been well attended, but we are reaching out to make it more accessible, both in format and content as well as by utilizing streaming technology to enable anyone in the world to attend virtually," explained Dr. Kachnic. "Program content and activities have and continue to be designed to benefit the entire radiation oncology team. Scientific and educational sessions intentionally feature content for different types of attendees that include researchers, clinicians, industry professionals, government officials, and physicians in community practices. In fact, the weekend Practical Radiation Oncology Program introduced in 2018 is designed for physicians who cannot leave their practices on weekdays."
New Presidential Symposium Format
The greatest restructuring is that of the Presidential Symposium, which has transformed from a didactic lecture on an important subject, to a three-part highly interactive discussion on a controversial subject. This year's subject, whether radiation therapy alone can cure metastatic cancer, is hotly debated among cancer clinicians. The symposium will start with three "state-of-the state" level setting talks, followed by an Oxford-style debate by two leading experts designed to identify areas of controversy. Attendees then select one of 13 breakout sessions, each incorporating a lecture by a specialist expert and emphasizing attendee discussion. Facilitators will divide each session into smaller groups focused on the pro or con side of one of three subtopics, and participants will work together to form their arguments, opening statements, and supporting points for another three 10-minute long debates and attendee questions and commentary. Each breakout session will develop takeaway messages for attendees to consider throughout the meeting.
"We are responding to attendees' requests for more tightly focused sessions, that are dynamic and interactive, and provide access to leading oncology experts. The format of the Presidential Symposium reflects this, and should be a lively, thought-provoking experience," commented Dr. Kachnic.
New Cancer Breakthroughs Session and Theranostics Workshop
Also new, Cancer Breakthroughs held on Sept. 18 is a review session that highlights groundbreaking research presented at the most recent annual meetings of the American Society of Clinical Oncology (ASCO), the American Association for Cancer Research (AACR), the American Association of Physicists in Medicine (AAPM) and the Reaction Research Society. "There is so much to learn at each of these meetings," Dr. Kachnic emphasizes. "The overarching goal of Cancer Breakthroughs is to showcase the top practice-changing science from these meetings to our attendees."
The Theranostics Workshop is designed for radiation oncologists who want to expand their practice to include radiopharmaceutical therapies (RPTs). Held Sept. 14 from 1-6 pm, this real-world course will include logistical and practical training in the clinical use of radiopharmaceuticals, and discuss infrastructure, workflow, and financial considerations of adding this treatment to community practices. RTPs are approved and emerging for the treatment of a variety of cancers, especially prostate and neuroendocrine, and radiation oncologists are certified to deliver them. Specific sessions on Y-90 microspheres, Ra-223, Lu-177 DOTATATE, Lu-177 PMS agents, and I-131 MIBG will be held, as well as related refresher courses on physics, pharmacology, and radiobiology.
Keynote and Plenary Sessions
Keynote and plenary sessions have always been filled to capacity at previous annual meetings, and 2019 will likely be no exception. The keynote topics of global health in oncology and artificial intelligence/machine learning in radiation oncology are among the most being discussed this year because they have universal implications for cancer care.
"These were selected by ASTRO president Theodore DeWeese, and the program committee believes that these topics will be especially interesting for residents and other early career physicians," said Dr. Kachnic.
Additionally, several plenary session presentations, which feature new clinical trial findings and updates, will include practice-changing information that could significantly improve patient outcomes. "Two examples come to mind," she notes. "One will be reporting patterns of recurrence and survival in the randomized PORTEC-3 trial of chemoradiotherapy or pelvic radiation therapy alone for high-risk endometrial cancer. Six hundred sixty women being treated in multiple centers were recruited, and interim 5-year findings are revealing that chemoradiotherapy is the superior treatment. Dr. Stephanie de Boer of Leiden University Medical Centre in the Netherlands will discuss this in depth."
Another presentation of great interest centers on findings of the first randomized clinical trial results on stereotactic radiation therapy for oligometastatic prostate cancer reported by Dr. Ryan Phillips of the Johns Hopkins Kimmel Cancer Center in Baltimore, notes Dr. Kachnic. "Single-institution studies have suggested that high-dose, targeted radiation may be effective in men whose prostate cancer has spread," she says, "and we anticipate seeing how results from a randomized trial add to our understanding of this emerging treatment paradigm."
Industry Innovations
The technical exhibitions are learning experiences as well, showing the latest emerging or clinically approved modalities, software, and technology. This year, more than 200 exhibitors have registered.
Back To Top