ESTRO 2017: Elekta Unity, transformative magnetic resonance radiation therapy (MRT) system, debuts
By News Release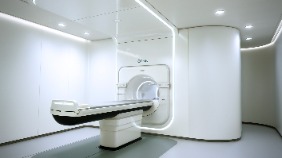 At the 36th ESTRO (European Society for Radiotherapy & Oncology) meeting, Elekta introduced Elekta Unity (shown left), the only magnetic resonance radiation therapy (MRT) system that integrates a premium diagnostic quality (1.5 Tesla) MRI scanner with an advanced linear accelerator and intelligent software. Elekta Unity is expected to deliver precisely targeted radiation doses while simultaneously capturing the highest-quality MR images, which will allow clinicians to visualize tumors at any time and adapt the treatment accordingly.
"It is a paradigm shift. It is something that will change the way RT will be done in the future," Elekta President and CEO Richard Hausmann, PhD, told Applied Radiation Oncology. "The more we learn from our partners, consortium members and customers, the more protocols will be developed. This is a huge thing. It's the start of a new era."
Members of the Elekta MR-linac Consortium will be at ESTRO 36 to discuss expected clinical applications of the system.
"The big benefit is the fact that it is using high-field MRI; this is the best soft-tissue imaging modality you can imagine compared to a cone-beam CT or a regular CT," says Dr. Hausmann. "You have the soft tissue contrast, and on top of that you have functional and physiological imaging opportunities, like visualization of hot spots within the tumor and you might even dose escalate those hot spots…you can see nerve roots, and see additional sensitive organs around the tumor that you can purposely avoid. So this is a huge advantage just to start with."
In addition to targeting greater precision in radiation therapy dosing, Elekta Unity will feature several new patient-centric attributes designed to enhance patient comfort during treatment. These features include a compact, wide bore (70cm) MRI, soft tabletop, nonglare room lighting and a table that has a low load height to facilitate ease of patient entry and exit.
Elekta Unity is expected to transform the treatment of cancer in several critical ways:
Real-time imaging, conducted during each treatment session, is expected to allow adaptation of treatment based on the size, shape and location of tumors and nearby healthy tissue. "With real-time imaging, you know where the tumor is and you can reduce the safety margin or intensify the beam because you know where to shoot," says Dr. Hausmann. "It's a reduction of irradiation to healthy tissue of potentially 50% or more. You can also address hard-to-treat regions of the body where sensitive organs are extremely close to each other."
Daily imaging could reduce uncertainties about tumor location, allowing dosing to a smaller volume and sparing healthy tissue from radiation, which has the potential to improve efficacy and reduce toxicity.
Improved differentiation between tissue types should improve the use of radiation therapy in treating soft tissue. The challenge of treating these tumors is the difficulty differentiating tumors from nearby healthy tissues and organs.
Functional MR imaging for research purposes, which provides information on cellular activity within a tumor, could potentially detect whether a tumor, or a portion of a tumor, is responding to therapy at the earliest stages of treatment. A recognized response or lack thereof allows clinicians to modify treatment plans as needed.
Additionally, researchers hypothesize that Elekta Unity has the potential to support the use of higher doses administered over fewer sessions, enabling shorter and more effective courses of treatment.
"We started the development of an integrated MR-linac system 18 years ago; the presentation of the clinical system is a huge milestone," says Jan Lagendijk, PhD, Professor and Head Radiation Oncology, Department of Radiotherapy / Centre for Image Sciences, University Medical Centre Utrecht, and conceptual architect and inventor of the MR-linac system. "This system promises to enable tumor dose escalation and extreme normal tissue sparing, it will also enable shorter and more effective treatment regimens, while its ability to perform functional imaging has the potential to perform better dose painting and tumor response assessment."
In October 2012, Elekta established a global consortium of partnering institutions to merge precision radiation delivery with MR imaging – from MR technology partner, Philips – in a single system. In addition to assuming responsibility for the core research and development and engineering activities, the consortium has generated the clinical and workflow protocols that will maximize the new system's therapeutic efficacy and ensure seamless integration into existing radiation oncology department procedures.
"Elekta Unity is a technical tour de force through which we have overcome the longstanding limitations of operating a radiation delivery system within the high magnetic field of a diagnostic-quality MR imaging system," said Dr. Hausmann in a press release. "We are pleased to present Elekta Unity to the global oncology community here at ESTRO 36 and recognize this milestone as a testament to the expertise and perseverance of the members of the MR-linac Consortium. Elekta is grateful to all of our partners for their dedication to improving patient care and steadfast commitment to making Elekta Unity a reality."
The Elekta Unity is not yet available for general sales in European markets with planned CE Mark for later 2017. Planned commercial availability worldwide to follow the CE Mark issuance.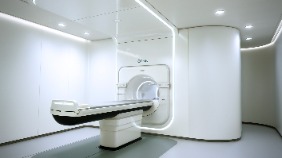 Back To Top
---
ESTRO 2017: Elekta Unity, transformative magnetic resonance radiation therapy (MRT) system, debuts . Appl Rad Oncol.
By
News Release
|
May 03, 2017
About the Author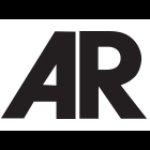 News Release