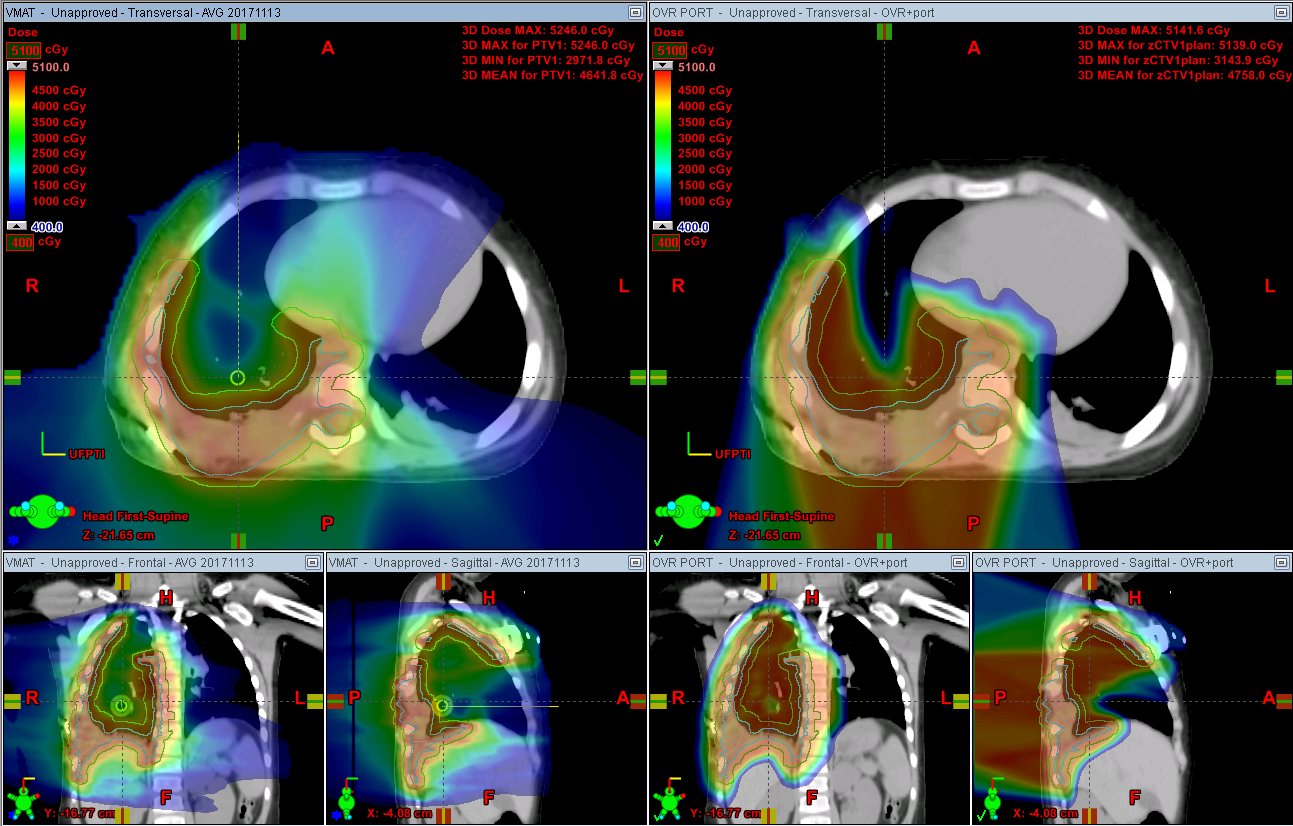 Caption: Colorwash dose distribution for a 4-year-old with Ewing's sarcoma of the chest wall with IMRT (left) and proton therapy (right), demonstrating dose reduction to the heart (15.6 Gy IMRT vs 5.4 protons), breast (15.6 Gy IMRT vs 5.0 Gy protons).
Thoracic tumors pose particular challenges for radiation therapy due to radiation exposure to vital organs. A "hot topic" session at the 2017 Radiological Society of North America (RSNA) annual meeting focused on the value of proton therapy (PT) as a treatment in the thoracic region in adults and pediatric patients.
The session began with an overview of the advantages of PT treatment for thoracic cancers in adults by Charles B. Simone II, MD, medical director of the Maryland Proton Therapy Center at the University of Maryland School of Medicine in Baltimore. The use of PT to treat lung cancer and other thoracic malignancies is increasing in Europe and the United States, noted Dr. Simone. PT advantages include the ability to reduce irradiation dose to normal tissues, enable dose escalation, provide definitive therapy for difficult-to-treat tumors, and to allow for reirradiation of recurring thoracic tumors. Dr. Simone reviewed data from recently published clinical studies showing that comparable (or better) clinical outcomes could be achieved with proton treatment while reducing radiation dose to the heart, spine, and adjacent organs, and significantly reducing acute toxicities compared to photon treatments.
Bradford S. Hoppe, MD, associate professor of radiation oncology at the University of Florida (UF) School of Medicine in Gainesville, who also works at the UF Health Proton Therapy Institute in Jacksonville, discussed the long-term health risks of pediatric cancer survivors who received radiation for thoracic malignancies, and how proton therapy is expected to help
reduce these side effects, most of which emerge decades after treatment. These survivors include children who have battled Hodgkin lymphoma, rhabdomyosarcoma, neuroblastoma, and Ewing's sarcoma.
Patients with Hodgkin lymphoma have excellent cure rates and make up the majority of pediatric patients receiving thoracic radiation, due to the higher overall incidence and higher proportion presenting in the chest. Patients with rhabdomyosarcoma, neuroblastoma, and Ewing's sarcoma of the chest, on the other hand, are less frequently encountered; have worse prognoses; and may require higher doses of radiation resulting in more significant acute side effects, including pneumonitis and esophagitis.
Data from the Childhood Cancer Survivor Study, initiated in 1994 to assess late effects of pediatric cancer treatments, have shown that children with Hodgkin lymphoma are at the greatest risk of developing a major toxicity later in life. About 50% develop major complications, including heart disease and second malignancies, most commonly breast cancer, lung cancer, head and neck cancers, and sarcomas. Additionally, these patients face high risks of developing thyroid-related, pulmonary, and cardiac problems.
Numerous studies have been published documenting both the initial cohort of 14,000 patients who received treatment between 1970 and 1986, and a second cohort of 10,000 who received treatment between 1987 and 1999. These studies show that as radiation dose to the normal organs in the chest increases, the higher the risk is of developing second cancers, especially breast cancer, lung cancer, sarcoma, skin cancers, and meningioma. Increased radiation dose to the heart, particularly if > 15 Gy, significantly increases the risk of adult cardiac problems, including congestive heart failure, myocardial infarction, pericardial disease, and valvular disease.
Proton therapy can more precisely target a tumor, delivering a high dose using passive-scatter, uniform-scanning, or pencil-beam scanning techniques. Unlike photon radiation treatments, protons stop after they reach a tumor, without continuing through it to impact healthy tissue located behind the tumor. Fourteen published studies compare radiation dose to adjacent tissues between protons and photons for Hodgkin lymphoma treatment. These studies showed that proton therapy treatment significantly reduced dosage to all adjacent organs, but much more so if the tumor was over the heart.1
In addition to the lymphoma studies, a 2011 study from the Harvard Radiation Oncology Program in Boston compared the dose distributions of intensity-modulated radiation (specifically photon) therapy (IMRT), intensity-modulated proton therapy (IMPT), and three-dimensional conformal proton therapy (3D-CPT), the latter of which was used to treat 9 children with stage IV neuroblastoma.2 Target coverage was comparable and was achieved with each treatment plan. Compared to IMRT, PT substantially spared normal tissue, particularly with respect to lower doses to the mean heart and the lungs. IMPT further reduced dosage to the kidneys, lungs and heart. Acute toxicities were limited to grade 1 skin erythema in 5 patients, and grade 2 anorexia in 2 patients.
Dr. Hoppe also discussed a study that evaluated the early outcomes of 138 patients (58 of whom were ages 6 to 18 years) with Hodgkin lymphoma who received chemotherapy followed by consolidative PT.3 Patient data from the Proton Collaborative Group (PCG) registry, the University of Pennsylvania proton registry, and the UF outcomes tracking protocol, were pooled. The 3-year relapse-free survival rate was 87% for pediatric patients. No group members experienced grade 3 radiation-related toxicities or grade 2 pneumonitis to date. Rates of other acute toxicities were low.
"This study and many others suggest that proton therapy represents a better treatment for pediatric patients with malignant thoracic tumors, both with respect to outcome," said Dr. Hoppe in his concluding remarks. "We hope to minimize risk of secondary cancers, cardiac damage, and other clinical conditions and diseases that can be devastating to health during adulthood."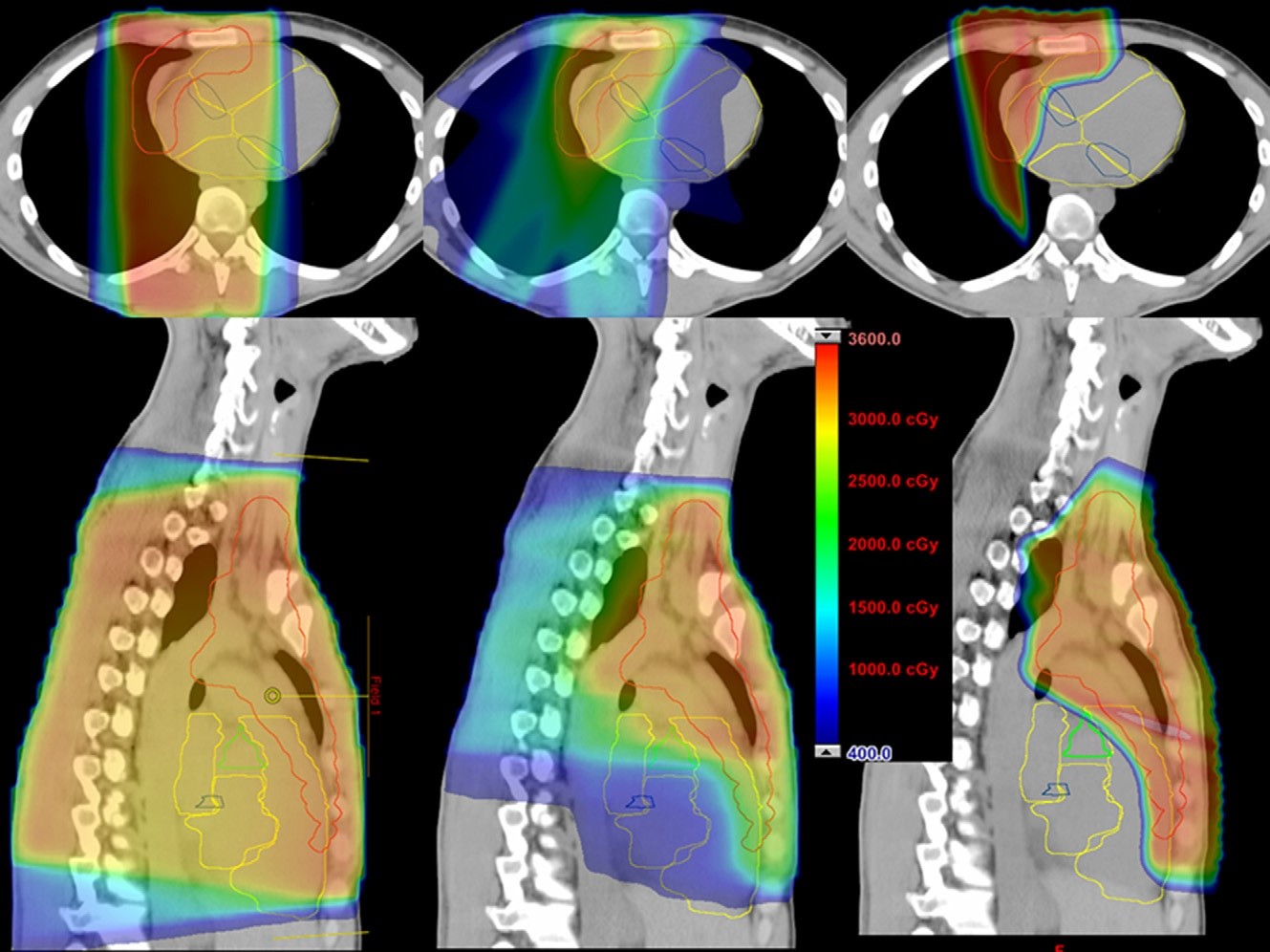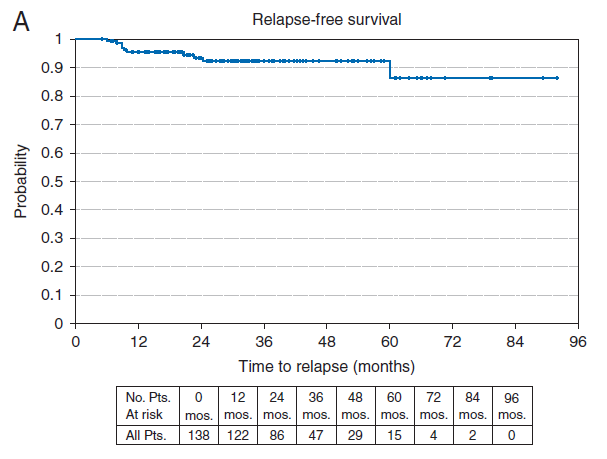 Caption: Colorwash dose distribution for an involved site treatment field (ISRT) for an 18 yo with stage I bulky Hodgkin lymphoma treated with 3D conformal photon radiation (3DCRT) left, intensity modulated radiation therapy (IMRT) (center), and proton therapy (right).
REFERENCES
Tseng YD, Cutter DJ, Plastaras JP, et al. Evidence-based Review on the Use of Proton Therapy in Lymphoma From the Particle Therapy Cooperative Group (PTCOG) Lymphoma Subcommittee. Int J Radiation Oncol Biol Phys. 2017;99(4):825e842.
Hattangadi JA, Rombi B, Yock TI, et al. Proton radiotherapy for high-risk pediatric neuroblastoma: early outcomes and dose comparison. Int J Radiat Oncol BIol Phys. 2012;83(3):1015-1022.
Hoppe BS, Hill-Kayser CE,Tseng YD, et al. Consolidative proton therapy after chemotherapy for patients with Hodgkin lymphoma. Ann Oncol. 2017;28(9):2179-2184.
Cynthia E. Keen is a freelance medical writer based in Sanibel Island, Florida, and is a regular contributor to Applied Radiation Oncology.
Back To Top