Skin cancer is the most common type of cancer worldwide, with more than 3 million people diagnosed annually in the United States alone, according to the Skin Cancer Foundation. Such patients receive treatment for more than 5.4 million skin cancers—most of which are early stage basal cell (BCC) and cutaneous squamous cell carcinomas (CSCC)—and are successfully treated with surgery.
For aggressive cutaneous carcinomas such as melanoma, angiosarcoma and advanced nonmelanoma skin cancers, treatment may also include radiation therapy. Radiation therapy is prescribed in cases of incomplete surgical resection or when surgery is not feasible due to the location(s) or extensive nature of the lesions. In particular, helical TomoTherapy (HT) has been validated as a safe, efficient and effective method of treatment, as described in the first published case of its use in 2009 at the Freeman Hospital Northern Centre for Cancer Care in Newcastle upon Tyne in the United Kingdom.1
HT is a technique for delivering intensity-modulated radiation therapy (IMRT) treatments using a continuously rotating linear accelerator. It combines 360-degree, fan-beam delivery of IMRT and megavoltage computed tomography (MVCT) imaging. A 64-leaf binary multileaf collimator (MLC) increases precision by dividing radiation beams into smaller beamlets to enable finer targeting and to better control the dose. The intensity of the 6-MV radiation beam conforms to a patient's tumor and avoids organs at risk (OAR) as the linac rotates 360 degrees around the patient while the couch passes through the center bore of the system.
Joanne Dragun, MD, FACRO, medical director of radiation oncology at 21st Century Oncology in Jacksonville, Florida, specializes in TomoTherapy radiation to treat complex cancers, and has been doing so since 2008.
"The unique helical architecture enables us to treat some tumor locations that could not be effectively irradiated through more conventional irradiation devices," says Dr. Dragun. HT provides homogenous dose distribution with coverage of the entire target volume and excellent sparing of OARs for large lesions, or surface lesions that are convex or concave (Figure 1), she explains.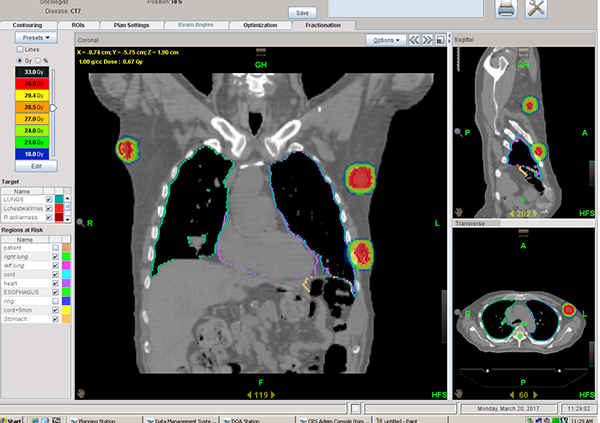 FIGURE 1. Subcutaneous multiple modules. Photo courtesy Joanne Dragun, MD, FACRO,
21st Century Oncology, Jacksonville, FL.
"Both skin and subcutaneous lesions can be treated in one setting, such as the superficial skin tumor bed and lymph nodes," she adds. "By defining the areas for radiation, my treatment planning system (TomoTherapy Treatment Delivery System, Accuray, Sunnyvale, California) sets the beams to deliver the dosing regardless of depth.
"In one case of Merkel cell carcinoma, the tumor was growing through the scalp in multiple sites," she describes. "We were easily able to apply dose distribution throughout the convex scalp while avoiding brain, sinuses and eyes (Figure 2)."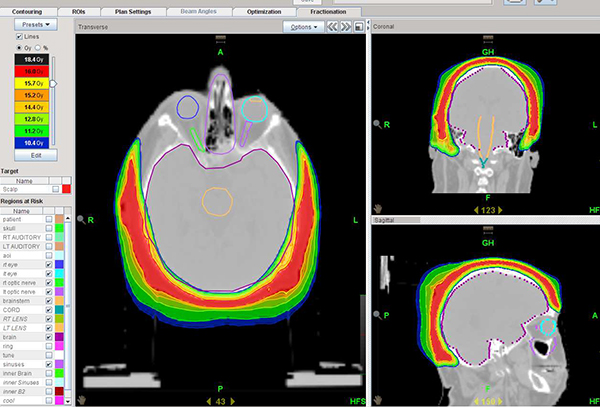 FIGURE 2. Full scalp irradiation for Merkel cell carcinoma in which the tumor was growing
through the scalp in multiple sites. Dose was distributed throughout the convex scalp while
avoiding brain, sinuses and eyes.Photo courtesy Joanne Dragun, MD, FACRO,
21st Century Oncology, Jacksonville, FL.
Another advantage of HT is speed. Because multiple tumors can be treated as a patient travels through the bore of the machine, the process only takes about 10 minutes after positioning. The bore size, however, does not accommodate very large or obese patients, she notes.
Total scalp irradiation
Numerous clinical studies have shown HT to be a safe, effective and clinically feasible technique for delivering total scalp irradiation. Radiation therapy may be more appropriate than surgery when dealing with superficial lesions on the scalp. Such lesions can be large, and the skin can be thin, especially if a patient has poor circulation.
The goal of treatment is to achieve a homogenous concave dose distribution with coverage to the entire target volume while sparing OARs, particularly the brain and hippocampus. The complex shape of the scalp and specific nature of the target is dosimetrically challenging. By conforming to the shape of the head, HT can deliver a targeted beam to any point on the scalp.
For total scalp irradiation, HT dosimetrically outperforms lateral photon electron (LPE) therapy and volumetric-modulated arc therapy (VMAT), according to research from Korea.2 A multi-institutional study showed that HT provided the best target coverage and conformity with the most favorable OAR-sparing. For each therapy delivery system, the researchers created treatment plans for a tumor that extended from the surface of the scalp to the depth of the cranium. A radiation dose of 60 Gy delivered in 30 fractions was used to achieve a target coverage of at least 90% of the planning target volume (PTV) receiving 100% of the prescription dose. Unlike the LPE and VMAT plans, a bolus was not needed for the HT plan, although when used, the dose to the brain was reduced.
A case of cutaneous T-cell lymphoma at the Ottawa Hospital Cancer Centre in Ontario illustrates the effectiveness of HT in treating a patient presenting with extensive complex lesions on the scalp.3 The patient had an extensive history of skin lesions on her body and scalp and had undergone 2 prior radiation therapy treatments that delivered 3500 cGy to the skin surface. This history limited potential treatment options. Brachytherapy and electron treatment were ruled out due to the size and location of the lesions.
Radiation oncologist Rajiv S. Samant, MD, and colleagues prescribed a dose of 2000 cGy to the areas of gross disease volume and a dose of 1500 cGy to the remainder of the scalp. The brainstem, spinal cord, pituitary gland, middle ear structures, and parotid glands received doses of < 350 cGy, and the brain, eyes, and optic nerves < 750 cGy.
Daily CT image guidance was performed to ensure correct patient positioning and to adjust the distribution of the radiation dose with respect to tumor changes. The tumor masses had begun to shrink by the fourth treatment, and within 2 months, scalp lesions had resolved completely and the skin had healed substantially. The only significant toxicity was moist desquamation at the site of the skin lesion.
Radiation oncologists from the ARNAS-Civico Hospital in Palermo, Italy, reported similar rapid results with minimal toxicities when they used HT to substantially reduce the scalp lesions of a patient with angiosarcoma.4 The patient, an 81-year old man suspected of liver metastases, was initially prescribed palliative irradiation, which consisted of a course of 10 fractions delivering 30 Gy using HT IGRT/IMRT. Because the skin lesions shrank substantially after 8 treatments, another 20 Gy was delivered in 10 fractions. These lesions did not cause health issues for the remainder of the patient's life.
"HT is a valuable technique for scalp irradiation as it achieves a uniform coverage of the target and an adequate sparing of the critical structures," the authors wrote. "The superiority of HT is the result of its ability to deliver tangential beamlets to the scalp, preventing under- or over-dosage areas associated with field-matching issues. Another advantage of HT is its increased safety in treatment delivery, because all target volumes are aligned and verified daily, prior to each fraction, based on MVCT scans."
Superficial skin cancers
Patients with advanced superficial skin cancers also benefit from HT. Its long field length (135 cm in one pass) facilitates treatment for total body irradiation, and for cases involving the long chest wall or extremities (Figure 3), says Katie Harmon, who used 1 of the first 10 TomoTherapy systems installed before joining Accuray as a clinical specialist.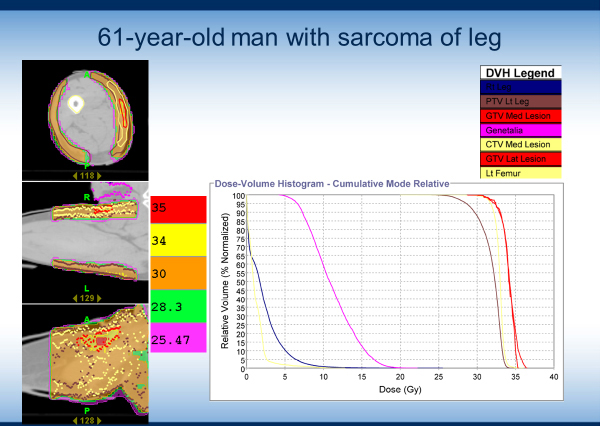 FIGURE 3. Unusual case in that the sarcoma presented on both the medial and lateral aspects
of the leg. This was a challenge to treat and spare the lymphatics. Options for this man were
amputation or TomoTherapy treatment. Anterior/posterior avoidance strips were created to restrict dose through the center of the leg. The planning target volume (PTV) on the medial leg was taken to 34Gy,
the lateral volume to 30 Gy and then the PTV to 28.3 Gy.Image courtesy Accuray.
"With TomoTherapy you don't have to match treatment fields, which is very difficult with electron fields," she explains. "Another advantage for superficial cases is the ability to treat multiple lesions simultaneously."
In addition, since TomoTherapy uses a 6-MV beam, it can control the dose better, compared to electron treatments, says Harmon. "Unlike a clinical setup for electron treatments, TomoTherapy requires a CT simulation to create a treatment plan, says Harmon. "TomoTherapy is ideal for surface anatomy that diverges in multiple directions within a single treatment area [and] a planning CT serves as a useful baseline for subsequent daily MVCTs, especially in cases where lesions are very responsive to treatment."
Radiation oncologists at the Institut Curie in Paris conducted a retrospective study of 25 patients with a variety of nonmelanoma skin cancers to evaluate the efficiency and tolerance of HT.5 Principal investigator Nora Kramkimel, MD, and colleagues studied the characteristics of the patients and their tumors, associated treatments, early and late toxicities and cosmetic results, and recurrence. The median follow-up was 12 months. The patients received the radiation treatment because of nonoperable lesions, incomplete excision, high risk of relapse, and lymph node involvement. Their cancers included BCC, CSCC, adnexal carcinoma, and Merkel cell carcinoma.
The patients received a radiation dose of 50 to 70 Gy to the tumor and 50 to 64 Gy to the lymph nodes. Treatment was successful for 21 patients who were followed between 2 and 39 months. Only 1 patient experienced a grade III toxicity (mucositis). Nearly 40% of the patients developed grade I or II early radiodermatitis, and 70% experienced limited late toxicities 6 months following treatment, predominantly loss of eyebrow hair and eye tearing.
Equally successful was the case of a patient with CSCC across her lumbar area and buttocks, and locally advanced lesions with necrotic and ulcerated areas. In addition to HT, the patient received cetuximab concurrently and subsequently for 10 months. Physicians at the Università degli studi di Napoli in Naples, Italy, reported that the patient achieved a complete response.6
Conversation with early adopter
A pioneer of HT for skin cancer treatment, Pedro A. Serrano-Ojeda, MD, DABR, of the Caribbean Radiation Oncology Center in Bayamon, Puerto Rico, first used HT in 2007 to treat a 70-year-old woman with a large scalp Marjolin's ulcer. Since then, Dr. Serrano-Ojeda has treated numerous patients successfully with HT.
"Helical TomoTherapy can be used to treat any type of skin cancer. My preference is to use this equipment for lesions > 1.5 cm thickness," says Dr. Serrano-Ojeda, whose patients have included those with large scalp lesions and scalp angiosarcomas. HT is also ideal for Merkel cell carcinoma, skin lesions > 10 cm, and skin lesions with perineural invasion that require tracking the cranial nerves to the base of the skull, he says.
HT has also been beneficial for hand and feet lesions, says Dr. Serrano-Ojeda adds, recalling a difficult case in which a lesion had crossed the entire thickness of the hand (Figure 4). Another successful yet challenging case involved large lesions below the elbows and knees—sites prone to injury with a higher risk for late ulceration.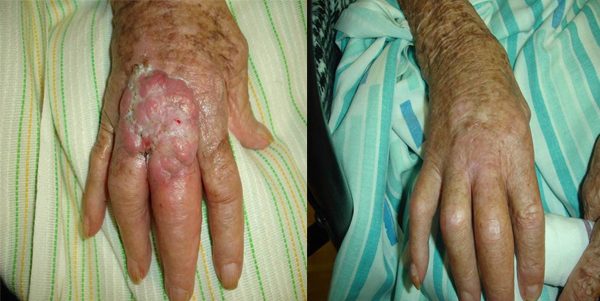 />
FIGURE 4. Skin lesions > 10 cm and those with perineural invasion that require tracking the
cranial nerves to the base of skull cannot be treated properly with electrons, but are excellent
for helical TomoTherapy. Photo courtesy Pedro A. Serrano-Ojeda, MD, DABR, Caribbean
Radiation Oncology Center, Bayamon, Puerto Rico.
Conclusion
Overall, TomoTherapy can be used to deliver discrete, tight fields; stereotactic radiation; IMRT or 3-dimensional conformal radiation, says Dr. Dragun. Moreover, TomoHelical Treatment Delivery dose painting techniques provide precise dosage delivery, sparing critical organs.
"In select cases, TomoHelical is an elegant way to treat skin cancer conditions and multiple tumors in one setting," she says.
REFERENCES
Chatterjee S, Mott JH, Dickson S, et al. Extensive basal cell carcinoma of the forehead and anterior scalp: use of helical tomotherapy as a radiotherapy treatment modality. Br J Radiol. 2010;83(990):538-540.
Song JH, Jung J-Y, Park H-W, et al. Dosimetric comparison of three different treatment modalities for total scalp irradiation: the conventional lateral photon-electron technique, helical tomotherapy, and volumetric-modulated arc therapy. J Radiat Res. 2015;56(4):717-726.
Samant RS, Fox GW, Gerig LH, et al. Total scalp radiation using image-guided IMRT for progressive cutaneous T cell lymphoma. Br J Radiol. 2009;82(978):e122-125.
Cuccia F, Figlia V, Palmeri A, et al. Helical Tomotherapy is a safe and feasible technique for total scalp irradiation. Rare Tumors. 2017;9(6942):7-8.
Kramkimel N, Dendal R, Bolle S, et al. Management of advanced non-melanoma skin cancers using helical tomotherapy. J Eur Acad Dermatol Venereol. 2014;28(5):641-650.
Falivene S, Giugliano FM, Grimaldi AM, et al. Tomotherapy concomitant with cetuximab, followed by cetuximab as a single-agent therapy for unresectable squamous cell carcinoma of the skin: a case report. BMC Dermatol. 2014;14:15.
Back To Top