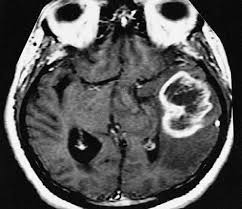 MERI Holdings, Inc. has announced that its proposed amalgamation partner Jay Pharma Inc.is adding new senior staff as the Company prepares to file two new investigational new drug (IND) applications for the treatment of radiodermatitis and glioblastoma multiforme (GBM) (image pictured on left).
Dr. Robert Wilkins is joining Jay Pharma as Chief Medical Officer. He will begin in the role immediately.
"Jay Pharma is seeking to bring oncology drugs to the market through FDA approval," said Dave Johnson, Jay Pharma's CEO-elect. "With Dr. Wilkins, we are bringing in the skillset necessary to enhance our organization and allow us to navigate the IND process with confidence."
Over the course of a 30-year career, Wilkins has held leadership positions in medical affairs, product development, marketing, commercialization, and business development at leading pharmaceutical companies, such as Abbott, Baxter, and Battelle. Since 2001, Wilkins has consulted with multiple innovators in the medical and pharmaceutical space, such as valve replacement system Endovalve and glucose monitoring equipment GlucoLight.
"Jay Pharma is poised to enter an exciting new stage of growth, and I am delighted to be a part of it," Wilkins said.
Johnson described Wilkins as an "excellent steward" to advance the Company's plans for filing two INDs: a combination therapy drug for the treatment of GBM, and a topical radiodermatitis treatment.
"We recently announced Investigational Review Board (IRB) approval for a GBM study at the Rabin Institute in Israel, and we plan to commence a study for radiodermatitis in the U.S.," Johnson said. "Bob will be crucial to advancing both of these initiatives."
In addition to Dr. Wilkins, Jay Pharma is pleased to announce the signing of Dr. Steven Weisman and Innovative Science Solutions (ISS) Regulatory Services. Steve and the ISS team have decades of experience developing regulatory strategies, product development, preclinical and clinical testing programs, regulatory submissions, and product defense/communication strategies for drugs, foods, cosmetics, and dietary supplements. Weisman also has specialty knowledge in analyzing the scientific and regulatory aspects of potential new products and the development of responses to FDA rule-makings.
"Steve will be an important voice in the preparation of our INDs, and our quality systems," said Wilkins. "We will work closely to ensure Jay Pharma is properly structured to work with the FDA and other regulatory agencies around the world."
The IND program, administered by the U.S. Food and Drug Administration (FDA), is the process through which a Company receives authorization to conduct human clinical trials in the U.S. According to Johnson, the Company plans to enter clinical trials for both its radiodermatitis and GBM formulations upon receipt of FDA clearance.

The radiodermatitis topical formulation has been designed to utilize the Company's proprietary cannabidiol (CBD) formula with the cannabinoid Cannabigerol (CBG) and other ingredients to help alleviate the discomfort caused by radiodermatitis, a skin condition that is a consequence of radiation therapy. It is one of the most common side effects experienced by cancer patients. The topical product is intended to be both preventative and to treat existing radiodermatitis.
A rare and aggressive form of brain cancer, glioblastoma multiforme (GBM) is notoriously resistant to currently available cancer treatments. Phase I/II human clinical trials in Israel will administer the Company's proprietary synthetic CBD formula to 40 enrollees: half of whom will be treated with the CBD formula, and the other half will be treated with the formula in combination with clomiphene, an estrogen binding site inhibitor.
"Our goal is to advance novel treatments that will improve the lives of cancer patients around the world," Johnson said. "With the additions of Dr. Wilkins and Dr. Weisman to the Jay Pharma team, we believe that we have the right individuals to help lead us into this next phase of the Company."
Back To Top