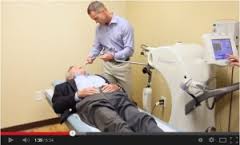 The rate of nonmelanoma skin cancer (NMSC), the most common type of cancer among Caucasians, is skyrocketing worldwide. Approximately 2 million to 3 million cases occur globally each year, according to the World Health Organization (WHO).1
Mohs micrographic surgery (MMS) is the gold standard in treating the two main types of NMSC, basal cell carcinoma (BCC) and squamous cell carcinoma (SCC). Radiation therapy is an alternative treatment for patients whose tumor location or tumor size makes MMS infeasible. Brachytherapy is increasingly used as an irradiation treatment for NMSC, and was the topic of an electronic poster presentation at ESTRO 37 in Barcelona, Spain, April 20-24.
Brachytherapy treatment is most commonly administered using surface applicators, delivering a high dose rate (HDR) of > 12 Gy per hour. The American Brachytherapy Society recommends use of HDR brachytherapy for treating lesions up to 5 mm in depth. Its advantages over other types of radiation therapy are that it can usually be performed in an outpatient clinic vs a hospital cancer treatment center, and can be delivered with a hypofractionation protocol. Healthy tissue surrounding the lesion can be better spared, as a high radiation dose concentration can be targeted, with rapid dose falloff.
Electronic brachytherapy (EBT) does not require use of radioactive isotopes. A miniaturized x-ray machine cathode is placed on the skin using a surface applicator ranging from 10 to 50 mm in diameter. The applicators are designed to cover a cancerous lesion with a 2- to 5-mm surface margin, and administer radiation dose to a typical depth of 2 to 3 mm. Because scattered low-voltage radiation is absorbed by the applicator, the operator can remain in the treatment room.
The radiation dose, safety, and effectiveness of EBT local control is not extensively documented. Researchers at SUNY Downstate Medical Center in Brooklyn, New York, conducted a literature review studying the efficacy of conventional HDR brachytherapy and EBT, with findings through 2016 reported in the March issue of the Journal of Dermatological Treatment.2
Lead author Koji Ota, MD, and colleagues, determined that the local control rate for 653 patients enrolled in 7 clinical studies for HDR brachytherapy was 96.2% to 100%. Skin cancer recurrence ranged from 0% to 4.4% during an 8- to 66-month follow-up period.
Results were comparable for 813 patients participating in 4 clinical trials using EBT. These patients had a local control rate of 90% to 100% during a 10- to 16-month follow-up period, with the largest study of 524 patients having a local control rate of 99.8% and a recurrence rate of 0.8%. The patients underwent either 6 or 8 fractions delivering a prescribed dose of 36.6 Gy, 40 Gy, or 42 Gy. The most common toxicities reported were Grade 1 and 2 rash dermatitis, acute radiation dermatitis, erythema, and ulceration.
The authors caution that patients must be carefully selected for either type of treatment. Patients with aggressive tumor histologies, such as sclerosing and infiltrative BCCs, poorly differentiated lesions, and SCCs with perineural invasions are not appropriate candidates for brachytherapy.
Study: HDR brachytherap
At ESTRO 37, researchers from the Radiation Oncology Department at AC Camargo Cancer Center in Sao Paulo, Brazil, conducted a retrospective study of 58 patients with 84 lesions treated with HDR brachytherapy over 3 years.3 Approximately 70% of the lesions were BCC. The largest lesions did not exceed 40 mm in diameter and 5 mm in thickness.
The surface applicators were 30 to 45 mm. On average, patients received 10 fractions of treatment 2 to 5 times weekly, although some patients received as few as 4 fractions and up to 22 fractions. The median dose per fraction was 5.0 Gy (range 2.5 to 7.0 Gy). Prescribed dose ranged from 24 to 55 Gy, with a median of 43.9 Gy.
Lead author P. Maia, MD, and colleagues reported that patients with BCC seemed to have better disease-specific survival than patients with SCC. They reported that the actuarial overall survival was 96.3% and disease specific-survival was 98.3%. All patients were satisfied with their cosmetic results. Median follow-up of this patient cohort was 20.5 months.
Study: Electronic Brachytherapy
A recent matched pair cohort study comparing clinical and cosmetic outcomes of 369 patients who either had MMS or EBT treatment for early stage NMSC published in the Journal of Contemporary Brachytherapy determined that recurrence rates and cosmetic outcomes were equivalent.4 The 188 patients electing EBT were individually matched with patients who had undergone MMS based on age, lesion size, type and location, and treatment dates. The patients received treatment at 1 of 4 outpatient clinics, and represented a real-world population.
The majority of the 113 BCC lesions and 95 SCC lesions in each patient group were 1 to 2 cm and were stage 0 or 1. Patients in both groups were followed 2.5 to 5 years. One patient in the EBT group had cancer recurrence. Toxicities were comparable, but patients receiving EBT had a higher rate of telangiectasia compared to the MMS group (31.4% vs 11.1%). Cosmetic outcomes were also comparable and not statistically significant.
"This study supports the use of electronic brachytherapy as an effective nonsurgical treatment option ... in appropriately selected patients," wrote the authors. Patients for inclusion could have NMSC lesions in locations where surgery would cause disfiguration, have a history of poor outcomes from prior skin cancer removals, patients at risk for surgical problems, lesions over bony prominences with risk of contracture, risks of grafts necessary for closure, and superficial, multicentric BCCs, according to lead author Rakesh Patel, MD, and co-researchers of Good Samaritan Radiation Oncology in Los Gatos, California.
REFERENCES
World Health Organization. Health topics. Ultraviolet radiation. Skin Cancers.

http://www.who.int/uv/faq/skincancer/en/index1.html

. Accessed May 4, 2018.
Ota K, Adar T, Dover L, Khachemoune A. Review: the reemergence of brachytherapy as treatment for non-melanoma skin cancer. J Dermatolog Treat. 2018;29(2)170-175.
Maia P, Machado A, Chen M. et al. EP-2255 High dose rate brachytherapy in patients with non melanoma skin cancer. Radiother Oncol. 2018;127:Suppl1: 1270-1271.
Patel R, Strimling R, Doggett S, et al. Comparison of electronic brachytherapy and Mohs micrographic surgery for the treatment of early-stage non-melanoma skin cancer: a matched pair cohort study. J Contemp Brachytherapy. 2017;9(4):338-344.
Back To Top