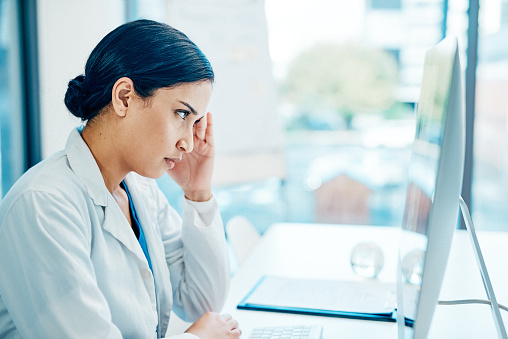 According to a new national survey from the American Society for Radiation Oncology (ASTRO), more than 9 in 10 radiation oncologists report that their practices face clinical staff shortages. More than half (53%) of the doctors said the shortages are creating treatment delays for patients, and 44% say they are causing increased patient anxiety.
The new ASTRO survey illustrates how staffing issues exacerbate the pressures that radiation oncology clinics face due to ongoing and excessive cuts to Medicare reimbursements, burdensome prior authorization requirements, and rising costs and inflation. Radiation oncologists from across the country are in Washington, D.C. today to advocate for policies to help alleviate stresses on cancer clinics and increase access and equity in cancer care, as part of ASTRO's Advocacy Day.
Other key findings from the survey include:
Practice operating costs are up 23%, on average, compared to before the pandemic. Most respondents (77%) said professional staffing is the main factor driving increased costs.
93% of the doctors said their practice is facing shortages of key clinical staff – nurses, therapists, physicists, dosimetrists, trial coordinators – and 80% said the shortages are worse than last year.
Staff shortages affect patient care in multiple ways. In addition to causing treatment delays (53%) and increased patient anxiety (44%), they also are forcing many practices to reduce support services such as patient navigation (48%).
More than one million people receive radiation therapy each year to treat cancer and other diseases, yet ongoing cuts, prior authorization and rising costs threaten to undermine equitable access to this life-saving treatment. In a recent poll, 93% of adults diagnosed with cancer said that radiation therapy is safe and effective at treating cancer.
Radiation oncologists will meet with members of Congress today to call for continued support of patients and the larger cancer care community, with an emphasis on the following three legislative priorities.
Support Stability, Access, Value and Equity (S.A.V.E.) in Medicare payment policies.
Radiation oncology delivers high value for patients and for Medicare, but under the Medicare Physician Fee Schedule, radiation oncology has seen more cuts than any other medical specialty, in excess of 20% over the last decade. A recent study found average Medicare reimbursement decreased for all 16 of the most common radiation therapy courses from 2010 to 2020, with reimbursement for intensity-modulated treatments that significantly improve patient outcomes down nearly 40%. Without intervention, millions of dollars in additional Medicare cuts could come this summer that will further threaten patients' access to high-quality cancer care.
"At a total cost to Medicare of less than what is spent on just three cancer drugs, radiation oncology provides incredible value to beneficiaries and taxpayers. Yet, a decade of relentless Medicare cuts and rapidly increasing costs are pushing community-based clinics to the breaking point. Radiation oncologists are asking lawmakers to support our fight against any new cuts, and to join us in our efforts to ensure stability, access, value and equity in cancer care," said Geraldine M. Jacobson, MD, MBA, MPH, FASTRO, Chair of the ASTRO Board of Directors. ASTRO is developing a new payment system for radiation oncology that will advance equity, improve quality and reduce costs, as well as protect access to radiation therapy by supporting innovation and ensuring payments keep pace with inflation.
Ensure patients and radiation oncologists make care decisions, not insurance companies.
Restrictive prior authorization tactics lead to unnecessary delays, anxiety and harm for people with cancer, and radiation oncology faces the most prior authorization hurdles of any medical specialty. Nine in 10 radiation oncology practice leaders say their patients are forced to wait for their radiation therapy treatment due to provider roadblocks inherent to the prior authorization process, and a majority say the average delay lasts one week or even longer. "Prior authorization for proven treatments ultimately causes more harm than good by squandering valuable time and resources, which negatively impacts patient outcomes," said Dr. Jacobson.
ASTRO recently applauded policy changes that are an important first step to increase transparency in prior authorization for Medicare Advantage, and radiation oncologists are now asking Congress to hold insurers accountable for following these new requirements. They also are encouraging support for bipartisan congressional letters led by Representatives Suzan DelBene (D-Wash.), Mike Kelly (R-Penn.), Ami Bera, MD (D-Calif.) and Larry Bucshon, MD (R-Ind.), and Senators Roger Marshall, MD, (R-Kan.), Sherrod Brown (D-Ohio), Kyrsten Sinema (I-Ariz.) and John Thune (R-S.D.) urging additional Medicare Advantage policy changes that will make the process less burdensome and more transparent, such as streamlining the approval process and establishing determination timelines.
Increase federal investments in cancer research
Bipartisan support for cancer research has contributed to averting nearly four million deaths from cancer in the U.S. in the past three decades. Federal funding supports cutting-edge technologies, such as radiopharmaceuticals and artificial intelligence, that increase patients' chance of survival and improve their quality of life, but sustained investment that grows with inflation is essential for continued progress in cancer treatment and prevention.
Radiation oncologists, therefore, are asking lawmakers to increase funding for the National Institutes of Health (NIH) and the National Cancer Institute (NCI). In addition, they are encouraging lawmakers to adequately fund the new Advanced Research Projects Agency for Health (ARPA-H) without pulling funding from other NIH programs, and to ensure that the Cancer Moonshot 2.0 initiative includes efforts to improve radiation therapy access, address health disparities and reduce obstacles to care such as treatment delays.
Back To Top