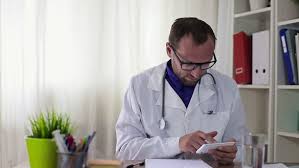 Smartphone-savvy radiation oncologists know that apps can mine the contents of peer-review journals, digging up helpful nuggets for research and clinical applications. Many also reap benefits of apps such as The RadOnc Toolbox and the Virtual Library of NCCN (National Comprehensive Cancer Network). On the patient front, mobile apps allow cancer patients to monitor their health during and after treatments.
Such use of smartphone apps can link physicians and patients to a wide array of potential benefits in the oncology setting. But while use of apps to address cancer treatment side effects and foster physician-patient communication has been the subject of much commentary, research showing clinical trial validation and proven utility is lacking regarding how this relates to patients undergoing radiation therapy, a fact supported by a study in the December issue of JMIR MHealth and UHealth. Only a handful of articles were identified in a peer-review journal literature search of 16.5 years on the use of apps by breast and prostate cancer patients.1
Interaktor app for prostate cancer
One article was a clinical study from Sweden evaluating an interactive app by patients undergoing radiation therapy for prostate cancer.2 User behavior, adherence to reporting, and experiences using the app were evaluated for 66 patients. Their self-reporting of interaction with health care providers and quality of life during the time of treatment and for three weeks thereafter using the app was compared with a control group of 64 patients who only had the usual interaction with oncology caregivers.
Prostate cancer patients often experience symptoms relating to the disease and also acute toxicities resulting from radiation therapy treatment. These include urinary problems, bowel problems, pain and fatigue. Because evidence exists that these patients may have unmet supportive care needs, and that self-care advice from physicians for managing symptoms varies greatly in both quantity and content, lead author Ann Langius-Eklöf, RN, PhD, of the division of nursing in the Department of Neurobiology at Karolinsa Institute in Huddinge, and co-authors decided to investigate whether an interactive app could help patients ease symptom burden.
The Interaktor app was developed in conjunction with Health Navigator, a Swedish innovative care solution company. This app included functions allowing patients' assessments of the occurrence, frequency and distress to be made immediately available to healthcare providers, a risk assessment model for symptoms of concern that sends text messages directly to health care providers, continuous access to evidence-based self-care advice related to the reported symptoms and links to relevant websites, and graphs for both patients and providers to view the history of symptom reporting.
The app included 14 questions of symptoms relating to bladder (urinary urgency, difficulties in urinating, urinary leakage and hematuria) and to bowel function (diarrhea, stool leakage, obstipation and blood in stool). There were also questions relating to pain, depression and worry, sleep, fatigue, and flushing. Patients were asked about occurrence and frequency of symptoms and the distress levels they caused.
Patients receiving radiation therapy for locally advanced prostate cancer at one urban and one rural university hospital were recruited. The men received external-beam radiation therapy (EBRT) over five weeks or a combination of EBRT with iridium high-dose-rate brachytherapy for eight weeks. Depending on the treatment, patients used the app between 56 and 77 days and were asked to use the app daily on weekdays during this period.
Eighty-seven percent of the patients adhered to this regimen. Out of 10,025 reported symptoms, 1,566, or 15.6% alerts were generated. One-third of the alerts were deemed severe, and generated a prompt response by oncology nurses to offer advice, order prescription medication, or schedule an immediate appointment with a physician. Approximately two-thirds accessed the self-care advice resources, and some admitted to "gaming the system" to underreport the severity of symptoms that they felt might trigger a call from a nurse.
Interviews with a subset of smartphone-app using patients and control group patients by Maria Hälleberg Nyman, RN, PhD, of the School of Health Sciences of Örebro University, revealed that the use of the Interaktor reduced symptom burden, particularly concerning urinary-related symptoms, and emotional functioning.3 These patients reported feeling more secure knowing they were being proactively monitored and those who had nurse interaction felt they had a more personal relationship with their caregivers.
A statistical analysis of the symptoms of both groups showed that patients receiving standard care had significantly worse emotional functioning at the completion of their radiation therapy treatment as well as 90 days later than the app-using patients. They also had a higher level of urinary-related functions, fatigue, nausea, and insomnia.4 Kay Sundberg, RN, PhD, of the Department of Neurobiology of Karolinska Institutet in Stockholm and colleagues, concluded that use of a cancer-specific interactive smartphone app for symptom management during radiation therapy treatment could be beneficial and merits further research.
OWise breast cancer app
A study of 15 women who received radiation therapy and/or chemotherapy for breast cancer at University Medical Centre Utrecht also determined that some patients benefited from an app that allowed them to report symptoms and to record consultations with their oncology caregivers.5 The app, OWise, invented by Ann Bruinvels, MD, of Px Healthcare, a United Kingdom research organization focused on improving cancer treatment and clinical outcomes, is free, available in Dutch and English, and has received CE mark approval.
The app's functions enable a user to receive personalized information on specific treatment, as well as have access to medical records and radiology images/reports, and audio recordings of oncology clinical visits. Patients can report and track physical and psychological symptoms and can access a calendar showing scheduled appointments and a timeline of their treatment regimen.
Women recruited for the study were 30 to 63 years old. Patients were asked to use the app at their convenience to determine which functions were useful, according to lead author Danny A. Young-Afat, MD, of the Department of Clinical Epidemiology. Most women used the app to obtain information, and many found the audio-recorded consultations with their clinical caregivers to be especially beneficial. Half of the group recorded their symptoms and side effects, but because there was not a structured reporting requirement, the benefit of this could not be analyzed. All but one patient found the app to be beneficial and recommended its use for other patients.
Oral muscositis pain apps
Researchers at the Sidney Kimmel Comprehensive Cancer Care Center at Johns Hopkins Medical Institutions in Baltimore, MD, are recruiting patients undergoing head and neck radiation therapy for a clinical study using a smartphone app to evaluate radiation-induced oral mucositis pain. The prospective study will evaluate how well the app can enhance adherence by patients to their prophylactic pain management treatment program. Feasibility will be defined by patient utilization rates and satisfaction scores.
The outcomes of the clinical study (NCT 02421536) will determine the change from baseline in out-of-clinic pain at two months, and the change from baseline mucositis pain at 2 months. Principal investigator Harry Quon, MD, associate professor of radiation oncology and molecular radiation sciences, and his colleagues hypothesize that an interactive algorithm can be adopted to extend the current in-clinic prophylactic pain regimen for the management of radiation-induced mucositis to improve out-of-clinic adherence and the effectiveness of the pain regimen. They believe that the effectiveness of the current prophylactic pain regimen will be more effective with continued reinforcement that might be provided by the smartphone app.
The server for this smartphone app is securely integrated with the Johns Hopkins Oncospace analytic database. This database captures all treatment-related information including all radiation therapy dosimetry information, and in-clinic treatment toxicities and oncologic and toxicity outcome measures, including those reported by patients. The Oncospace integration capabilities will allow correlation of the patient-supplied data about pain and the radiation therapy dose, volume and the location of the upper aerodigestive tract.
A study is also planned by the Medical College of Wisconsin in Milwaukee to evaluate whether an oral mucositis (OM) pain app for smartphones is a feasible and valid tool to assess pain from ulcer-like sores developed by patients with head and neck cancers undergoing radiation therapy treatment. The mobile app is being designed to better understand pain caused by the sores.
The primary objective of the study is to assess feasibility of the mobile technology application, according to information supplied by principal investigator Stuart J. Wong, MD, associate professor of medicine and otolaryngology in the Division of Hematology and Oncology. The software can generate a time-weighted measure of pain, total area under the pain curve (AUC), and a summary measure that integrates serial assessments of a patient's pain over the duration of the study. Up to 65 patients with tumors involving the oral cavity or oropharynx who will be prescribed at least a 50Gy dose of definitive radiation therapy will be recruited.
In this clinical trial (NCT02727062) which has not yet recruited patients, researchers will compare pain scores in patients at high risk for severe oral mucositis who are receiving radiation and concurrent chemotherapy with patients at low risk who receive radiation therapy alone. The validity of the oral mucositis pain app will also be tested by comparing the Brief Pain Inventory, a standardized pain assessment tool, and the OM pain app to discriminate pain in subgroups determined by severity of pain scores, dose of radiation prescribed, and anatomic site of the diseases.
Each participant will receive a preprogrammed alarm four times daily from their smartphones, prompting them to directly enter OM pain levels (0-10) on the device. They may also submit pain entries more frequently.
Conclusion
In summary, benefits of mobile apps for cancer patients undergoing radiation therapy and for their clinical caregivers remains predominantly anecdotal. But like formal online support groups, or social media platform interaction, if a cancer patient benefits from 21st century communications technology, why not? For clinical caregivers, more research is needed.
REFERENCES
Rincon E, Monteiro-Guerra F, Rivera-Romero O, et al. Mobile phone apps for quality of life and well-being in breast and prostate cancer patients: systematic review. JMIR Mhealth Uhealth. 2017;5(12):e187.
Langius-Eklöf A, Christiansen M, Lindström V, et al. Adherence to report and patient perception of an interactive app for managing symptoms during radiotherapy for prostate cancer: descriptive study of logged and interview data. JMIR Cancer 2017;3(2)e18.
Hälleberg Nyman M, Frank C, Langius-Eklöf A, et al. Patients' perspective on participation in care with or without the support of a smartphone app during radiotherapy for prostate cancer: qualitative study. JMIR Mhealth Uhealth. 2017;5(7)e107.
Sundberg K, Wengström Y, Blomberg K, et al. Early detection and management of symptoms using an interactive smartphone application (Interaktor) during radiotherapy for prostate cancer. Support Care Cancer. 2017;25:2195-2204.
Young-Afat DA, van Gils CH, Bruinvels DJ, et al. Patients' and health care providers' opinions on a supportive health app during breast cancer treatment: a qualitative evaluation. JMIR Cancer. 2016;2(1)e8.
Back To Top