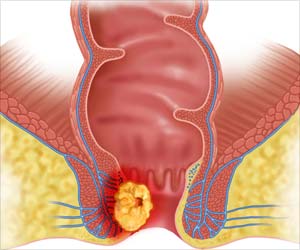 Treatment for anal cancer has improved significantly over the past 2 years, in great part due to advances in radiation therapy (RT) technology. With its capability of allowing more conformal dose delivery, intensity-modulated radiation therapy (IMRT) is increasingly replacing 2- and 3-dimensional conformal RT. IMRT reduces the risk and severity of debilitating acute toxicities, the most common of which is radiation-induced diarrhea.
With IMRT, doses are prescribed to different target volumes and radiation dose constraints are defined for adjacent healthy organs. A radiation field is partitioned into multiple smaller fields, producing variability of the intensity of the radiation beam for any one field. The end result is a radiation dose distribution that closely conforms the radiation dose around a target tumor or target volumes. Studies show that severity of toxicities is reduced, and the number and duration of treatment breaks are minimized with the use of IMRT.
Radiation oncologists have been striving to identify techniques and methods to limit gastrointestinal toxicities and to identify patients for whom less radiation dose to both a tumor target and organs at risk can be prescribed without compromising clinical outcomes.
An Australian study published online in July in Clinical Oncology reports that bowel cavity is the relevant organ at risk (OAR) to minimize radiation dose.1 Researchers analyzed the medical records of 58 patients who received chemoradiotherapy with IMRT treatment for squamous or basaloid cell anal carcinoma between July 2010 to July 2014 at 6 affiliated radiation therapy centers in Victoria.
Led by Michael Ng, MD, of the GenesisCare Radiation Oncology Centre St. Vincent's in Melbourne, the radiation oncologists identified patients who developed acute severe radiation-induced diarrhea and correlated dose-volume metrics. They assessed which bowel OAR dosimetric parameters were most closely associated with acute diarrhea. A key objective was to determine the most practical way for community-based radiation oncologists to contour bowel volume in radiation therapy treatment planning that was fast, simple, and reproducible.
Nearly three-fourths of the patients were women, ranging in age from 31 to 82 years. More than half the patient cohort (54%) had stage III anal cancer and 53% were node-negative. The majority received a dose of 54 Gy in 30 fractions, and 79% received an elective nodal dose of 45 Gy in 30 fractions. Ninety-five percent of the patients experienced radiation-induced diarrhea, including 11 patients with grade 3, 20 patients with grade 2, and 19 patients with grade 1.
For the radiation therapy plans for each patient, 4 bowel volumes were assessed, using small or large bowel loops or a combination of both. The authors defined bowel cavity as an envelope containing all bowel from 1.5 cm cranial to the planned target volume to the recto-sigmoid junction. The 3 other bowel volumes were defined as individual small bowel loops, individual large bowel loops, and the combination of individual small and large bowel loops.
The authors measured 12 parameters for each of the methods of bowel contouring. These included total volume, maximum dose, and volumes receiving radiation dose in 5 Gy increments between V5Gy to V50 Gy. They compared the values for patients with grade 0/1/2 diarrhea with those of grade 3 for each of the 12 parameters.
"Bowel cavity was the most sensitive OAR correlated with grade 3 diarrhea, with each 5 Gy bin highly discriminatory...Using bowel cavity V30 Gy, a V30 GY ≤ to 300 cm3 can predict a grade 3 diarrhea risk of 6% vs. a V30 Gy > 300 cm3 predicts a 41% risk," they wrote. The authors also advised that large bowel was not correlated with diarrhea. They added that women tended to have more severe diarrhea, noting that the median bowel cavity volume for women was 670 cm3 compared with 500 cm3 for men.
The authors determined that the dose to bowel cavity was the best predictor of severe acute diarrhea compared to all the other ways to contour bowel volume. They recommend its use and the metric V30 Gy as the single bowel dose constraint in radiation therapy planning, as well as being an efficient and pragmatic method for planning optimization. Patients who have a predicted higher risk of bowel toxicity can be identified early and managed appropriately to ensure treatment completion.
IMRT may eliminate need for chemotherapy for elderly patients with early stage disease
Elderly patients diagnosed with stage I anal squamous cell carcinoma may be able to avoid chemotherapy treatment, according to a study from the Icahn School of Medicine at Mt. Sinai in New York City published in the July issue of Diseases of the Colon and Rectum.2 Researchers who conducted a population-based cohort analysis of 200 patients between ages 55 to 85 years who received chemoradiation, and 99 patients who only received radiation therapy, determined that outcomes were similar.
Principal investigator Michael Buckstein, MD, PhD, assistant professor of radiation oncology, and colleagues, conducted the study to determine whether chemoradiation improved overall survival, cancer-specific survival, disease-free survival, and colostomy-free survival between 2 matched groups. They also assessed reducing toxicities occurring within 6 months of treatment, and toxicities associated exclusively with chemotherapy.
The anonymized patient sample was obtained from the Surveillance, Epidemiology and End Results (SEER) registry. Patients ranged in age from 68 to 79 years, and 75% were Caucasian women. The patients underwent therapy between 1996 and 2011. The authors noted that a higher percentage of patients received radiation therapy only from 2008 to 2011, but there was no significant difference in the use of IMRT. Only 50 patients in the total cohort received IMRT, approximately 16% for each group.
The authors determined that outcomes were comparable. However, chemoradiation was associated with a higher frequency of pain and inflammation of the rectum, with late toxicities persisting at a two-fold higher rate than if a patient received only radiation therapy.
Dr. Buckstein told Applied Radiation Oncology that Mt. Sinai always uses IMRT to treat anal cancer. "Based on the results of our study, we have been offering more radiation-only treatment for stage I anal cancers, specifically patients who are older and sicker," he said. Patients who have significant comorbidities or concerns about immune function also receive radiation-only at his facility. "We started making this recommendation over the past year when we initially completed our analysis."
"Younger patients with stage I disease receive chemoradiation treatment," Dr. Buckstein added, noting that these patients were not well represented in their study. "We are concerned about missing a potential therapeutic window for cure. And because there is very convincing randomized evidence that CRT is superior to RT alone for stage II and III disease, we would not consider RT alone for node-positive disease.
"The interesting questions for anal cancer," he continued, "might [center on] some type of dose reduction for good players (HPV+), dose intensification for bad players, and adding local therapy for stage IV disease."
REFERENCES
Ng M, Skelton J, Guerrieri M, et al. Intensity-modulated radiotherapy for anal cancer: dose-volume relationship of acute gastrointestinal toxicity and disease outcomes. Clin Oncol. Published online July 23, 2018. doi: 10.1016/j.clon.2018.07.020.
Buckstein M, Arens Y, Wisnivesky J, et al. A population-based cohort analysis of chemoradiation versus radiation alone for definitive treatment of stage 1 anal cancer in older Patients. Dis Colon Rectum. 2018 61;7:787-794.
Back To Top