40-year-old female with sudden leg pain
Submitted by Eric J. Monroe, MD, Department of Radiology, University of Washington, Seattle WA.
A 40-year-old woman experiences sudden onset of calf pain while rounding the bases in a game of softball. She presents after several days of continued pain, tenderness, and limited mobility. MR of the lower extremity was obtained.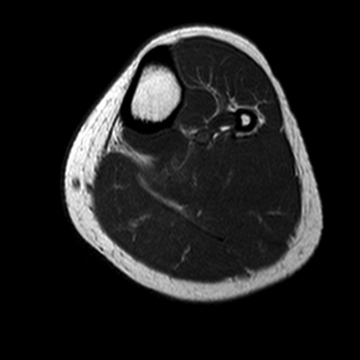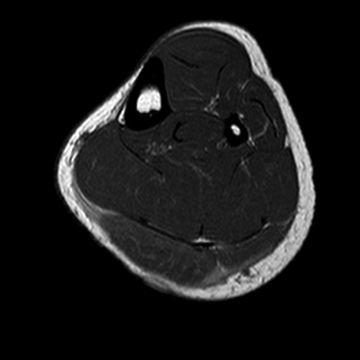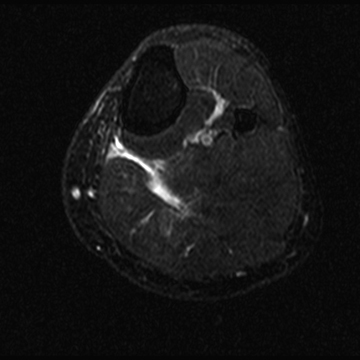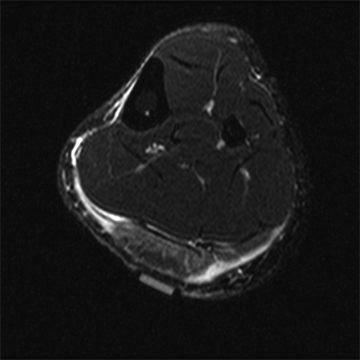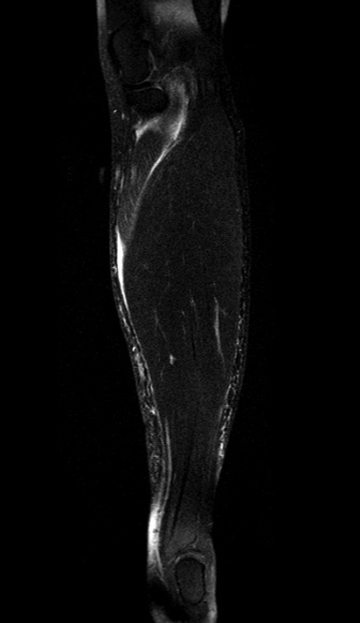 History and imaging are consistent with:
You are correct!
Findings
MR demonstrates edema in the medial head of the gastrocnemius as well as a thin collection of T1-hyperintense fluid deep to the gastrocnemius in the expected path of the plantaris muscle.
Discussion
The plantaris muscle originates on the lateral supracondylar line of the femur just above the origin of the lateral head of the gastrocnemius muscle. Its muscle belly courses obliquely deep to the lateral head of the gastrocnemius muscle, continuing inferiorly between the medial head of the gastrocnemius muscle and the soleus muscle. Distally, its tendon travels medial to the Achilles tendon to combine with or insert anteromedially to the Achilles tendon on the calcaneus.1 The plantaris is diminutive compared to other muscles of the superficial posterior compartment, so much so that it has earned the moniker the "freshman nerve" for its propensity to be misidentified by junior medical students.
Although contribution of the plantaris muscle to motor function in humans is likely minimal, injury to the muscle or tendon is an important consideration in the workup of acute calf pain. Patients classically experience acute onset of calf pain while running or jumping followed by focal tenderness and swelling or the so-called "tennis leg" condition, a clinical syndrome also seen with injury to the myotendinous junction of the medial head of the gastrocnemius muscle.2
MR findings depend on severity of injury and range from increased T2/STIR signal in the plantaris muscle belly and/or medial head of the gastrocnemius to frank muscle rupture with hemorrhagic fluid accumulating in the expected course of the plantaris muscle.3,4 Concurrent injuries to the anterior cruciate ligament and arcuate complex are frequently encountered.4
References
Spina AA. The plantaris muscle: anatomy, injury, imaging, and treatment. J Can Chiropr Assoc. 2007;51:158-165.
Delgado GJ, Chung CB, Lektrakul N, et al. Tennis leg: Clinical US study of 141 patients and anatomic investigation of four cadavers with MR imaging and US. Radiology. 2002;224:112-119.
Bencaridino JT, Rosenberg ZS, Brown RR, et al. Traumatic musculotendinous injuries of the knee: diagnosis with MR imaging. Radiographics. 2000;20:S103-120.
Helms CA, Fritz RC, Garvin GJ. Plantaris muscle injury: Evaluation with MR imaging. Radiology. 1995;195:201-203.
Your answer is incorrect.